Gold Sovereigns
---
The gold Sovereign was first minted under Henry VII more than 500 years ago and was circulated as currency until 1931, when the British Gold Standard was abandoned. It is arguably the archetypal British gold coin, despite not being the biggest or most expensive.
Despite having a face value of £1, Sovereigns are primarily bought as a bullion investment due to their fine gold content.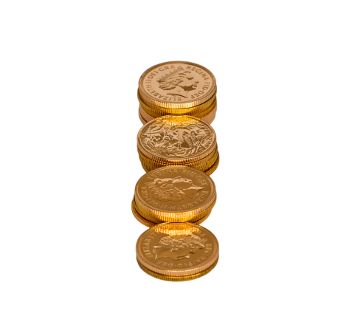 ---
An excellent, tax-efficient investment
Due to the fact that gold bullion is VAT free, gold Sovereigns an extremely efficient way of investing in gold. This differentiates them from an investment like silver bars which, although much cheaper, are liable to VAT.
It should be noted that certain Sovereigns, such as those made before 1837 or special commemorative proof Sovereigns, may be worth much more than their bullion value to certain numismatists or coin collectors. If the coin is sold for more than 180% of the value of its gold content, then it will be subject to VAT as it is considered a collector's item.
Not only are they tax efficient, Sovereigns are also a very convenient way to invest in gold as their value is recognised internationally, meaning there will be no shortage of demand if you ever decide to sell.
Furthermore, the fact that they are small, affordable units makes them easy to buy and sell in either small or large quantities, as well easy to store. Sovereigns can be sold as and when needed in order to raise funds in times of difficulty, or to invest elsewhere. As such, they are a far more flexible and convenient investment than bars, even though the premium per unit is slightly higher.
---
Size, weight & design
Full gold Sovereigns minted since 1817 measure 22.05mm across and have a thickness of 1.52mm. They are 22 carat gold coins weighing 7.98g, of which 7.32240g of pure gold. The original Sovereign featured the king sat on his throne on the one side, with the royal coat of arms on the other, and was the largest and most valuable coin so far seen in England at the time. It was discontinued in the early 17 th Century under the reign of James I, but was then reintroduced in 1817, although this time much smaller. Apart from the years 1825-71, and certain specific year designs , the Sovereign has since featured the same design since its 1817 renewal. The reverse shows an image of St George and the dragon designed by Benedetto Pistrucci, with the head of the ruling monarch on the obverse side.