Entrepreneur Q&A: Rob Halliday-Stein, BullionByPost
---
Meet the man who's shaking up the staid gold bullion industry with a user-friendly, online shop. Rob Halliday-Stein, founder of BullionByPost, on the recession, the problem with diamonds, and The Italian Job.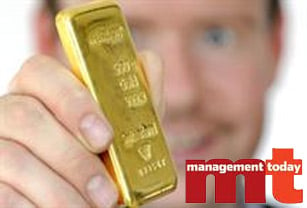 By Rebecca Burn-Callander, Tuesday 11 Sept 2012

Gold is all the rage these days. Seen as a safe investment, the precious metal has spawned a raft of businesses of the pawnbroking ilk.: 'We pay cash for gold!' scream advertisements. But there is another industry quietly making a mint off the back of the new gold rush: bullion traders. MT caught up with Rob Halliday-Stein, founder of BullionByPost to find out whether all that glisters really can make you pots of gold…

ManagementToday: What does BullionByPost do, in a nutshell?
Rob Halliday-Stein: We sell gold and silver bars and coins to individuals over the web. We buy the gold from the big, European refineries – Umicore and Metalor are two of the largest – and most of our coins from the Royal Mint, pay wholesale prices, and sell it on. It's a straightforward mark-up business.

And when you say, 'By Post', does Old Postie have to go out there, spluttering and sweating, carrying these bars of gold?
They aren't as heavy as you would think. We supply small bars, which weigh anything from 1g to 1kg – the latter would set you back around £35,000. These are different from the bank-size bars you see in
The Italian Job
– those come in at 12.5kg. We send the bars out using Royal Mail Special Delivery. It's discreet – you don't see a massive Securicor van pulling up outside your house – and reliable. We've sent 35,000 packages and never lost one. To be on the safe side, we are covered by Lloyds of London for £50,000 a package.

How much gold does your average customer buy?
The average order is worth around £3,500 – roughly 100g of gold or 4kg of silver. But people spend as little as £30 on a commemorative gold sovereign and as much as £0.5m on the bullion. We don't send that through Royal Mail obviously. They tend to collect, or we dispatch using a company like Loomis.

Why are people buying all this gold?
The common thread that unites all of our customers is that they've lost confidence in the banks and government's ability to look after the economy. They turn to gold and silver as a way to protect their money with something tangible. After all, inflation could wipe out the value of your savings overnight.
Click here to read the full Q&A with Rob Halliday-Stein on the Management Today website