Scrap 18 Carat Gold Prices
Sell 18 carat gold
Do you have 18 carat scrap gold that you're looking to sell? Call +44 121 634 8082 to lock in a price today!

At BullionByPost we offer excellent rates, strong customer service, and a quick selling process to give you peace of mind when selling.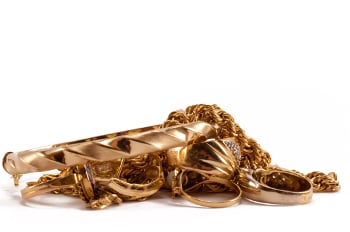 We pay up to 95% of the market spot price for your scrap gold and it's a straightforward process:
Call us up for a valuation and lock in a price
Post your gold to us
Once we've received it our vault team inspect the gold
Receive your bank transfer payment

Want to estimate how much you'll get? Use our Scrap Gold Price Calculator to get a quote on your jewellery based on the live spot price.
18ct Scrap Gold Price Per Gram (€)
Scrap Gold Price Calculator
Simply enter in the amount of gold you have in grams and the fineness and we will provide you with an accurate quote.
How much is 18 carat gold per gram?
18 carat gold is 75% pure gold, which earns it 75% of the current gold market spot price in value. Depending on the amount you're selling our rates go up to 95% of that value.
All of our rates are based on the live spot price - updated every few minutes - to ensure our customers get a true valuation of their goods.

---
What do we buy?

Typically scrap gold is old gold jewellery. The condition doesn't matter, and we buy back rings, necklaces, bracelets and much more - including gold medals and nuggets.
We also buy back other purities of gold, ranging between 9ct and 24ct.
Unfortunately there are some items which we do not buy back:
Gold watches
Rolled gold
Gold dust or grain
Gold without a hallmark