Scrap 24ct Gold Prices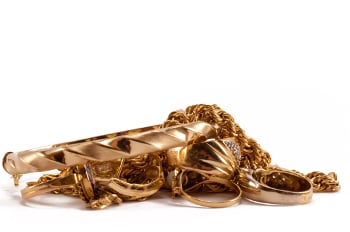 Sell Scrap 24 carat gold
At BullionByPost we take the hard work out of selling scrap gold. Simply call us on +44 121 634 8082 and you could convert your scrap jewellery into cash in no time at all.

The process is simple: we give you a valuation of your gold, you post it off to us, and once we've received it and inspected we pay you via bank transfer. Job done.

We offer great rates on scrap 24ct gold, paying up to 95% of the gold market spot price. Call us today or use our scrap gold calculator below for a valuation of your items and see how much you could earn!
24ct Scrap Gold Price Per Gram (€)
Scrap Gold Price Calculator
Simply enter in the amount of gold you have in grams and the fineness and we will provide you with an accurate quote.
How much is 24 carat gold worth?
24 carat gold is pure gold, registering at 99.5% purity. This is the same purity you'd get from investment standard gold bullion. We offer competitive prices on 24 carat scrap, paying up to 95% of the gold spot price for your scrap. Our prices are based on live price charts, updated every few minutes.
We buy back hallmarked gold jewellery including necklaces, chains, gold rings, pendants, and many more. Please note that we do not buy back watches or gold grain/dust.
Customers looking to sell gold bars or coins can click here.