Sell Scrap Gold
Sell your Scrap Gold Today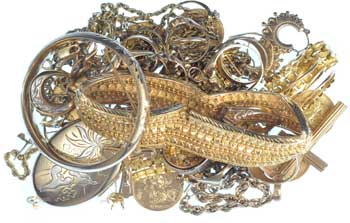 At BullionByPost we buy scrap gold at market leading prices.
Want to find out how much your scrap is worth? It's simple.
Enter the Weight in grams of scrap gold you have into the box below.
Select the Carat or Fineness to lock in the purity.
Click Get Quote to get your price.
If you're happy with the price you can see then call us on +44 121 634 8082 to book in your sale. Post it to us via special or express delivery and we will pay you within 5 working days by Bank Transfer.
Please note that prices are based on the live market spot prices and can fluctuate on a minute by minute basis.
Scrap Gold Price Per Gram (€)
Scrap Gold Price Calculator
Simply enter in the amount of gold you have in grams and the fineness and we will provide you with an accurate quote.
Why Sell to Us?
Following our success in becoming the UK's No.1 online bullion dealer* we wanted to expand our business to customers in Ireland and offer them the same great service.
At BullionByPost we pride ourselves on excellent customer service and offering customers a straightforward way to buy and sell gold.
All of our scrap gold prices are live, automatically updated every two minutes to ensure you, the customer, receive the most accurate price possible. Payment is made securely via Bank Transfer upon receipt of goods, and takes up to three working days to process.
---
What do we buy?
We buy back scrap gold of most purities, including 9ct, 14ct, 18ct, 22ct and 24ct gold. Most of our customers sell back to us unwanted, old, or broken gold jewellery, including gold rings, necklaces, earrings, chains, charms, pendants as well as medals and nuggets.
Unfortunately we don't buy gold watches, gold dust or grain, plated gold, rolled gold, filled gold or unhallmarked gold.
Customers who are unsure about the purity of their item, or if it has a hallmark, can call us on +44 121 634 8082 for more information and assistance as we try and help value your gold.
---
Call Today for Your Quote
A quick and easy selling process is the aim of the game, so at BullionByPost we do just that. Call our friendly and knowledgeable team today on +44 121 634 8082 to agree a price over the phone for your gold.
Due to the distance your gold might have to travel we hold the agreed price for 5 working days. All we ask is for you to post your scrap gold to us the same day*, and the money will be paid into your bank account within three working days of receiving your goods.
*Sales registered after the postal collection time should be sent as soon as possible the next day.
If you require any further information about scrap gold, please call us on +44 121 634 8082 or email us: sales@bullionbypost.eu and we will get back to you as soon as possible.
---
Sell Your Scrap Gold in Birmingham
Some customers prefer a personal touch, so we offer customers in the UK and Ireland the option of coming to our trade counter to sell your scrap gold in person.
Our office is based in the heart of Birmingham near New Street train station. Click here for directions.
We're open 9:30am - 4:30pm, Monday to Friday and any customers wishing to come in to buy or sell with us should bring photo ID (driving license or passport) and proof of address (bank statement, utility bill etc).
---
Please note scrap gold must be accurately tested for its purity which may involve cutting into the metal and the removing of stones. If the item does not match the description we will recalculate the quote or return the gold to you; however the item will be returned damaged following the testing process.
---
Related Links
Sell Gold Sovereigns | Sell Gold Krugerrands | Sell Gold Bars | Sell Gold Coins