Scrap Sterling Silver (925) Prices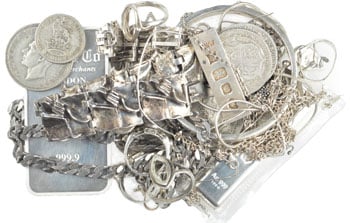 Sell Sterling 925 Silver
Call BullionByPost today on +44 121 634 8082 to sell your scrap sterling silver.
We pay up to 88% of the spot price for old or unwanted sterling silver bracelets, chains, rings and more, transferring the money directly into your bank account upon receiving and inspecting your 925 silver jewellery.
Enter the weight and fineness of your jewellery into our scrap silver calculator to get a quote based on the live silver price or call us on +44 121 634 8082 for a valuation.
925 Scrap Silver Price Per Gram (€)
Scrap Silver Price Calculator
Simply enter in the amount of silver you have in grams and the fineness and we will provide you with an accurate quote.
How much is sterling silver worth?
Sterling silver has a purity of 92.5%. Fine 999 Silver is the purest silver, but Sterling silver is a very popular option for jewellery due to the additional strength provided by mixing in a small amount of another metal - usually copper but sometimes platinum, silicon, zinc and several others.
We buy scrap sterling silver paying up to 88% of the live spot price for silver.
Sell Silver Bars and Coins
We also pay up 100% of the spot price for fine silver coins and bars from recognised refiners.
Click here to sell silver coins and silver bars.