Gold Britannia vs Sovereign
---
As the two primary British bullion coins, it can be hard to know which of the Britannia or the Sovereign is the best product to invest in. Both are extremely popular Royal Mint coins so at BullionByPost we've produced this handy comparison guide to help you decide which coin is the most suitable investment to suit your budget.


---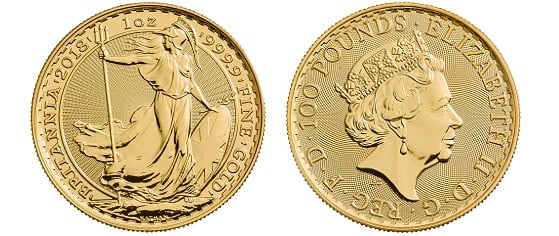 First year of production: 1987
Gold purity: 999.9 or 24 carat (since 2013)
Weight: 31.10 grams or one Troy ounce
Dimensions: 32.69mm diameter, 2.8mm thick
The Gold Britannia is the larger of the two coins and the more expensive. It is one ounce of pure gold. Out of 1000 parts, 999.9 of them are gold.
The coin was first made by the Royal Mint as a 22-carat gold coin when created in 1987. It contained one ounce of gold but had additional metals mixed in to improve durability. As production technology improved, the Royal Mint changed the coin to be made of pure 24-carat gold from 2013 onwards. Silver Britannias and Platinum Britannias are also produced by the Royal Mint.


---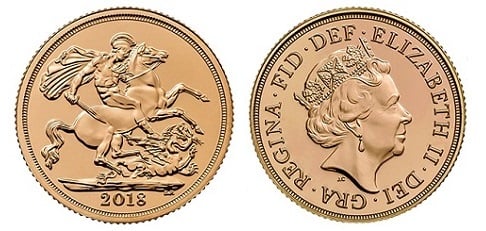 First year of production: 1817
Gold purity: 916.7 or 22 carat
Weight: 7.32 grams or one quarter of a Troy ounce
Dimensions: 22.05mm diameter, 1.52mm thick
The Gold Sovereign is the smaller coin of the two. It weighs
a quarter of an ounce and has been produced in the UK,
Canada, India, Australia and South Africa during its lifespan.
Sovereigns were first produced in 1817 as part of the Great Recoinage the year before and were the equivalent of a Pound. They were used in circulation until the First World War, at which point the UK switched exclusively to fiat currency due to cost and the shortage of precious metals.
Due to their age and the fact they were produced all over the world, the Gold Sovereign is a globally recognised coin. Thanks to its smaller size and weight it is also more versatile than the Gold Britannia coin – you can't sell a quarter of a 1oz gold coin but if you owned four Sovereigns to make up that ounce then you can sell one of them.
The Sovereign's only real shortcoming is in the fact it is made of fine gold but is not a pure gold coin, and that its weight – a quarter of an ounce – is an uncommon weight for investment bullion.


---

You can find our Royal Mint bullion here. We also have specific resources about Britannia Coin Designs, Sovereign Coin Designs, and the mint marks that appear on Sovereigns to distinguish them between the mints that produced them over the years.