Gold Tola Bars - India & Pakistan
---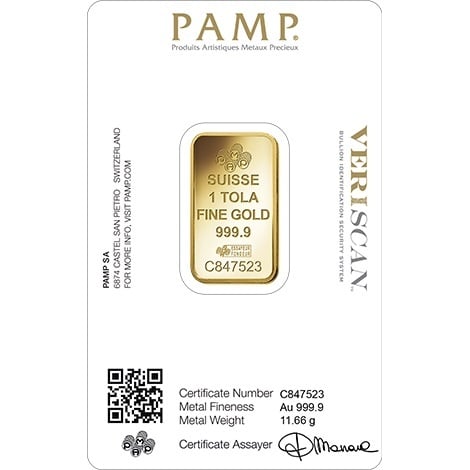 A Tola is a unit of measurement. It comes from the Indian subcontinent and was used as a weight for precious metals in coin or bar form. Some companies also call them Tolah or Tole bars.
Asian countries now use grams and kilos for weight, but Tola bars of gold are still incredibly popular in and around India and Pakistan, whether used for jewellery, trading, or simply as a gift for weddings and religious holidays.
.
The history of the Tola
The word Tola (Tolā) is Hindi and is derived from the Sanskrit 'Tulā' which means balance, scale or weight.
Tola bars and coins existed in India and surrounding regions for hundreds of years but it was the British East India Company who, in 1836, specified how many grams were in one Tola. The East India Company released a Silver Rupee that was one Tola in size, or 180 troy grains. This rounded up previous weights from 178 or 179.6 grains to ensure consistency in trading. .
.
.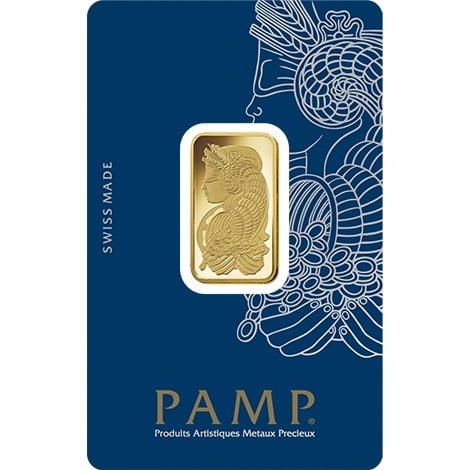 Tola bars are well known for their rounded edges, which actually helped smuggling into India and thus drove up their popularity. Gold Tola bars are typically produced in 22 or 24 carat gold, with 999 being the traditional purity. The top refineries produce their Tola bars at 999.9 officially, but these are actually 999.96 purity.
The Tola is still popular in Bangladesh, India, Nepal, Pakistan and Singapore. According to statistics from GoldBarsWorldwide, the 10 Tola gold bar sold more than 40 million units to India alone between 1990 and 2002, with millions more sold to Pakistan and neighbouring countries.
.
How much does a Tola weigh?
There are two varieties of Tola weight: Indian and Pakistani. Below is a comprehensive list of how much a Tola weighs in each country.
.
Please be aware that at BullionByPost we stock PAMP Suisse Tola gold bars, which are produced to the Indian weight specification.
.
Indian: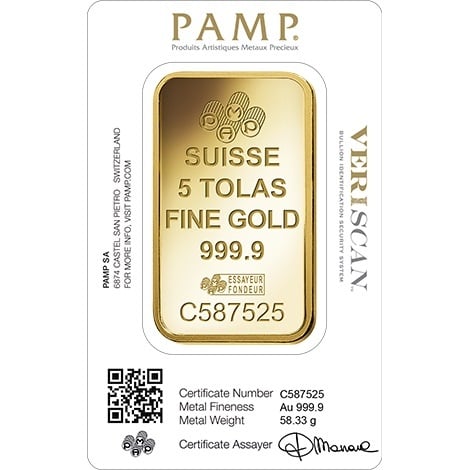 1 Tola = 180 troy grains = 0.375 troy ounces = 11.66 grams
3 Tolas = 540 troy grains = 1.125 troy ounces = 34.98 grams
5 Tolas = 900 troy grains = 1.875 troy ounces = 58.3 grams
10 Tolas = 1800 troy grains = 3.75 troy ounces = 116.6 grams
.
Pakistani:
1 Tola = 180 troy grains = 0.44 troy ounces = 12.5 grams
3 Tolas = 540 troy grains = 1.32 troy ounces = 37.5 grams
5 Tolas = 900 troy grains = 2.2 troy ounces = 62.5 grams
10 Tolas = 1800 troy grains = 4.4 troy ounces = 125 grams .
.
What do we sell?
At BullionByPost we deal with one of Switzerland's finest gold and silver refiners – PAMP Suisse. They are the only gold company we stock Tola bars from.
We sell the PAMP 1 Tola Gold Bar and a PAMP 5 Tola Gold Bar. These bars are
24 carat / 999.9 purity and available with free, fully insured next day delivery.
.
Similar products:
India experienced decimalisation in 1956, and Pakistan shortly after in 1961. With the change in weights came a change in gold habits. The Tola bars were still popular but the subcontinent now had access to 10g, 100g, and 1 KG gold bars.
At BullionByPost we sell a huge variety of gold bars and coins, with many being similar in weight to the Tola bars. Use the links below to find alternatives to Tola gold bars.
For 1 Tola, why not look at our 10g gold bars.
For 3 Tolas, check out our 1oz gold coin selection.
For 5 Tolas visit our 50g gold bar range.
For 10 Tola try our 100g gold bars.
We also sell larger bars in 1 kilogram size.
.
Got a question? Call our customer support team on +44 121 634 8082 or email us at support@bullionbypost.eu and our friendly staff will help you out in a matter of minutes.
.
---