Why Buy Gold?
---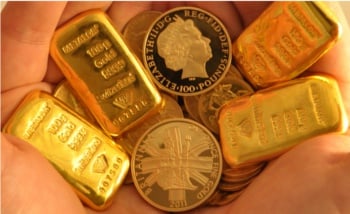 The global economy might be more stable now than is has been at any point
within the past 10 years, but gold is still a sensible investment. Change
can come in an instant. Confidence in the banking system and with analysts
was damaged irreparably in 2008 following the Financial Crisis. If these
bankers and investors lost the money once, they can do it again.
The world economy is showing an average 4% growth rate, but the Eurozone
is only at 0.4%. Stock markets and cryptos have tempted investors for the
past few months, but there's never a guarantee with these options. Gold
offers the most predictable return of these assets, which is why it's such
a wise investment for any portfolio, no matter how big or small.
.
---
The Ultimate Insurance
The Eurozone isn't doing as it was 5-10 years ago, but the economic
situation is not greatly improved. Living costs are higher while wage
growth has been slow to keep up with inflation. Banks are wary of
lending and interest rates are very low, and only recently has the
European Central Bank decided to end its bailout funds.
This is why gold is a good choice for insurance. Gold offers a lot
of certainty because bullion will always hold a value. We recommend
mixing investments with Gold bullion. This approach, known as
Hedging, is beneficial because gold tends to do rise in value when
other investments such as stocks and property are under-performing.
Gold also protects against inflation and deflation, as well as covering
the gap between the inflation rate and interest rate.
Gold's worth is historic, and as such investment gold is recognised
internationally. . .
.
---
To Protect Your Wealth
The Financial Crash in 2008 was a wake-up call to most people. We started paying more attention to our finances, our savings, and understanding the true worth of our money. We all want to protect our earnings and our wealth, and this is why gold quickly became the most popular investment when everything went bad. The benefit of gold is that it's low risk; it's easy to buy, easy to sell, and with BullionByPost you can be sure of fair prices.
.
---
To Control Part of Your Wealth
Physical ownership is a good way to protect and control your wealth. You're not relying on
banks or third parties to look after your finances. You're in charge, you make the decisions.
Even electronic gold (ETFs) can't be as reliably managed as physical gold investment bullion.
With this control you can decide how much you want to keep or sell when the time comes,
as well as which parts of your investment to sell. There are many bullion dealers, like ourselves
who are ready and waiting to buy your fine gold back. It can be as easy as a phone call or
an email and you can receive payment for your gold within a matter of a few days.
.
Click here for more information on why buying physical gold is your best option.
.
.
---
Gold Performance – where next for Gold?
.

.
Gold prices rose quickly after August 2007. This continued throughout the banking crisis in 2008 and 2009, and as you can see from the graph above the price peaked in late 2011. Prices have been consistently high, with some room for readjustment as markets decided where to go next, but the fact is that gold plays a much more significant part in investment portfolios and wealth protection than it did before this decade.
Prices saw more motivation in 2016 due to political events such as the Brexit referendum in the United Kingdom, and the election of Donald Trump as President of the United States. Geopolitical troubles in 2017 between the USA and North Korea pushed prices higher once more, but the rise of cryptocurrencies, the stock markets, and now the US Dollar have meant that gold's stellar rise has been put on hold. Despite these rivals stealing attention from gold, prices are still strong and higher than they were 3-4 years ago.
The Brexit negotiations and the difficulties involved could provide further opportunities for gold bullion prices to rise as safe-haven demand rises to protect investors ahead of the 2019 deal deadline. This, combined with the threat of a financial crisis from the collapse of the Turkish Lira, the trade war between the US and China, and other conflicts, is making it more and more likely that gold will soon return to consistent price rises.
There is no guarantee that gold will go up in price. Often bearish (cautious) investor behaviour means that prices go down first before they can come back up. Our advice is to conduct your own research; monitor the news about gold and silver, about how currencies are behaving (how much they can buy), and about which countries are disputing. The majority of bullion behaviour can be matched to these events.
Click here to view the current price of gold via our live gold price charts.
Read more about the World Gold Council's predictions for the next 30 years in our News Section.
.
---
Demand for Gold - Worldwide Demand Hits New Heights
The demand for gold is high. Just like silver, gold has its uses in industry - especially the tech sector. Mining technology has taken a back seat in recent years, meaning mining costs are growing as it becomes harder to reach hidden metals. Less mining of gold will drive the price up steadily, so even if gold isn't the most popular investment choice it will still do well.
The World Gold Council's figures have shown a year-on-year increase in gold and silver demand, from investors and industry. China, Germany, Switzerland, France and India are all reporting record rises in consumer demand.
.
---
Anyone can buy gold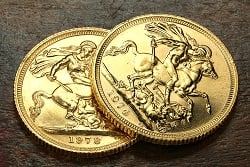 Buying gold isn't just for the wealthiest people in society. At BullionByPost we sell gold of all different
weights and sizes, so that even the smallest investor can buy and build up a small fortune.
Gold has traditionally been a common holding. It's only within the last 100 years - at the request of governments - that people stopped owning gold.
The advice from experts is to hold between 5% and 10% of your wealth in gold bars or coins, in order
to protect yourself against an economic downturn.
.
---
Related Links:
If you have any questions about gold bullion investment, please feel free to contact our knowledgeable and friendly team on +44 121 634 8082 who will be happy to talk your through any queries you may have.
Alternatively, you can email us at support@bullionbypost.eu and we will get back to you as soon as possible.
.