Gold Silver Ratio
---
The Gold : Silver Ratio is how many ounces of silver can buy one ounce of gold. When this ratio is low, it suggests that gold is cheap or undervalued. When the ratio is high / wide, it suggests that silver is cheap or undervalued.
Example: If gold is trading at €950 per ounce, and silver is priced at €12.50, then the gold to silver ratio would be 76.
This isn't a scientific measure, but it is one that helps investors evaluate how the markets are feeling about gold and silver, and which is the best metal to invest in to get the best deal.
.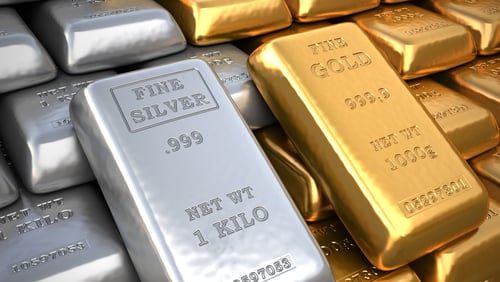 .
According to our Gold to Silver ratio charts, the amount of silver needed to buy an ounce of gold is at 80.28 (August 17, 2018). The high in the past three years was 83.08, so we're very close to reaching those levels again. The all-time high came in March 1991, with a ratio of 102.31.
The average ratio is between 60 and 70, so the suggestion is that silver bullion is sitting at a fairly cheap price on the market. This would suggest a lack of consumer demand, but we know that industrial demand - especially in tech - is growing rapidly each year, so even if ordinary investors don't return to silver any time soon, industry will keep demanding more and more silver, which eventually will mean supplies start to shrink and prices rise.
.
Throughout history the ratio has fluctuated widely:
In 1991 the ratio peaked at 102.

At the peak of the last precious metals boom in 1980, the ratio had narrowed to 17.

At the end of the 19th century (1800s), the ratio was fixed at 15.

During the Roman Empire, the ratio was fixed at 12.

323 B.C. at the time of Alexander the Great's death, the ratio stood at 12.5.
Some investors argue that because there is 16 times more silver than gold, the ratio should be 16, though this could fall even lower because only 9 times more silver is currently being mined from the earth than gold.
View the gold : silver ratio and the silver : gold ratio.