Where to Buy Gold? The Best Place to Buy Gold
---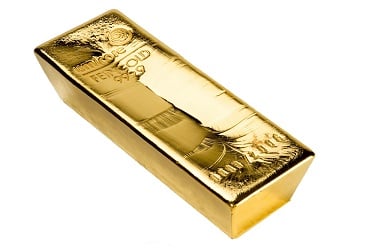 .
Investing your money is a serious matter. It is not something that should be done on a whim and you should thoroughly research the market before choosing a bullion dealer.
At BullionByPost we are often referred to as the best place to buy gold in the United Kingdom and we are now bringing our experience and reputation to the rest of Europe. Read our guide below to find out how you can decide which company best suits your investment needs for buying gold.
.
---
Internet Research is Key
You're using the internet to buy your bullion, so it makes sense to also use it to do your research. The internet is the ultimate resource for information about companies and their success. Simply use a major search engine like Google or Bing and type in the name of a bullion dealer or, if you're not sure of any, search for bullion dealers in your country.
Often the highest ranking websites are the best produced and therefore the best organisations, but watch out for links marked AD (advert) - these are paid for and will be pushed to the top. Visit several sites and look around to see how professional their pages look and how much information they give the customer.
Search engines often have reviews alongside to help you decide, but real customer reviews are the real help in deciding whether a company is legitimate, professional, helpful, and reliable.
.
---
Independent Customer Reviews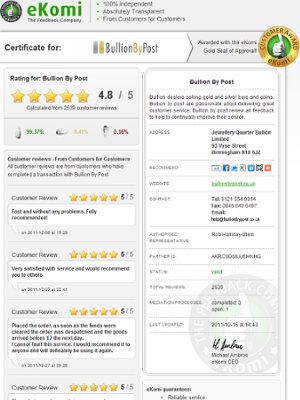 Many companies, such as Amazon, allow customers to leave reviews on their website. The best companies use independent websites such as eKomi to prove to customers that their reviews are impartial.
These third-party websites feature testimonials and endorsements of companies. At BullionByPost we are one of many major companies who use eKomi to make sure our customers can see that we are transparent when it comes to our reviews; we don't interfere, we just let people post honest comments.
Use a search engine to find the company's name and 'reviews'. Read through the lines to see which reviews are fair and tell the true story.
Here at BullionByPost, we pride ourselves on our award-winning customer service team and believe customer service is the cornerstone of all successful businesses.
We have received over 19,000 independent customer reviews, with an average score of 4.9 / 5.
Click here to read what our customers have to say about us.
---
Word of Mouth
Ask your friends and family who they bought their gold bullion from. Personal recommendations allow you to get a genuine understanding of the company and how they deal, and that will help you decide if you should buy from them.
.
---
Be Insured
Not all companies ship bullion with full insurance. It is crucial that you have this, so make sure whoever you're buying from explicitly says that your order is covered by their insurance. If it is not then you may not be able to make a claim if it gets lost, stolen, or arrives damaged or with part of the order missing.
At BullionByPost we provide free fully insured delivery on all bullion orders of any value. We are insured up to €30,000 per parcel with Lloyds of London and never dispatch a parcel of any higher value in one go. Larger orders in excess of €30,000 are part dispatched with the second parcel not being dispatched until you have had receipt of the first.
Please note: All bullion parcels are discreetly packaged for security purposes to avoid unwanted attention.
.
---
Be Aware of Hidden Costs
Make sure you're fully aware of the costs involved in ordering from a company. Some companies hide the VAT on bullion, while others hide shipping costs. Some companies don't even tell you about potential tariffs if you're ordering from a non-EU member state.
Here at BullionByPost, we're very clear on how much our products cost. We include free shipping with all of our orders too, and if your funds are received by 3pm CET then your parcel will be sent out that evening ready for delivery in the next day or two.
Only place your order once you're certain that the price you've been quoted is the price you will pay!
.
---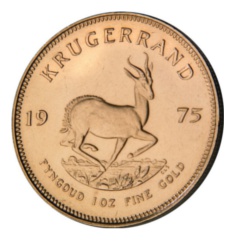 Only Buy if You're Happy
As we concluded above, only buy once you're happy. You must be confident in your bullion dealer. You must feel reassured that they will fulfill their promise to get your bullion to you quickly and safely.
Please note: These tips and hints are to be used purely as a guide and we encourage customers to be guided by their own research and intuition. BullionByPost does not accept any liability if you decide to place an order with another bullion dealer besides from ourselves in which you are not entirely happy.
C lick here to read a selection of our 19,000+ reviews our customers have written about us via a third party independent customer review site.
---
Related Links: If you have any questions about gold bullion investment, please feel free to contact our knowledgeable and friendly team on +44 121 634 8082 who will be happy to talk your through any queries you may have. Alternatively, you can email us on: sales@bullionbypost.eu and we will get back to you as soon as possible.
Why Buy Gold? | When to Buy Gold? | Storing my Gold? | Buy Gold Online
View our Top 5 Gold Investments and our Top 5 Silver Investments