Gold rush Australia
---
The gold rushes of Australia began officially in 1851, and would continue for decades as more gold deposits were discovered. Unlike the California gold rush or Klondike gold rush, the gold rushes in Australia covered a huge amount of land across the entire country, though specific locations like Victoria and Coolgardie did gain some notoriety in their own rights.
Migration driven by the gold rush was staggering and by 1871, just two decades after the first official discovery of gold, the population of Australia more than tripled from 430,000 to 1,700,000. The Australian gold rush was one of the main factors behind the transformation of Australia; from a penal colony of the British Empire, into one of the principal global economies of the modern world.


---
What was the gold rush?
Gold had been found in Australia many years prior to 1851. In 1823 the first officially recognised discovery was made by James McBrien, in the Bathurst region of New South Wales. Several other discoveries were made in the years following, but colonial government in New South Wales suppressed the news. Australia at the time was mostly made up of convict colonies, and many officials were worried at the impact that news of gold being found could have on the prison population. After the California gold rush started in 1848 – causing a global gold-fever – officials reconsidered their positions, and rewards were offered for any gold found in Australia.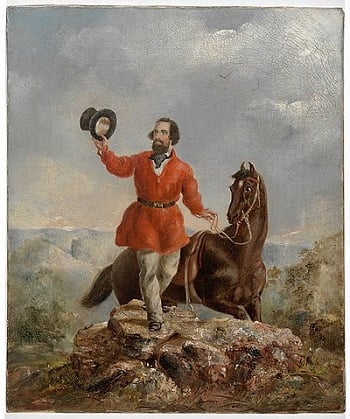 The first gold rush of Australia began in February 1851, when prospector Edward Hargraves claimed to find gold in a place he called Ophir, located near the city of Orange in New South Wales. By May 1851, the news had been reported in local papers, and 300 diggers arrived eager to find their fortunes. The convict colonies of Australia were phased out, with towns and cities revolving around the gold rushes beginning to appear. Officials soon realised that giving convicts a free trip to Australia was no longer the punishment it once had been.
Australia had no shortage of gold and the discoveries soon spread to other states; July 1851 was the date of Victoria's first gold rush – at Clunes goldfield – and by the end of 1851, gold was being mined at Buninyong, Ballarat, Castlemaine, and Bendigo.
When news of the discoveries reached England it was considered overstated – and was largely ignored – but when six ships arrived from Victoria in 1852, carrying eight tonnes of gold, these doubts were erased.
People migrated to Australia in droves, and came from the British Isles, Europe and America, fuelling a multicultural society. Racial tensions with Chinese prospectors (as seen in the California gold rush) were once again an issue. Considered especially unwelcome, Chinese immigrants faced significant discrimination, and the state of Victoria even enacted the Chinese Immigration Act of 1855, restricting the number of people allowed to travel to the area. Undeterred, many Chinese migrants would land illegally in South-East Australia, and then travel 400 km across rough country to the Victorian goldfields. The area was a prolific producer, and 174 tonnes of gold were extracted in 1852 alone.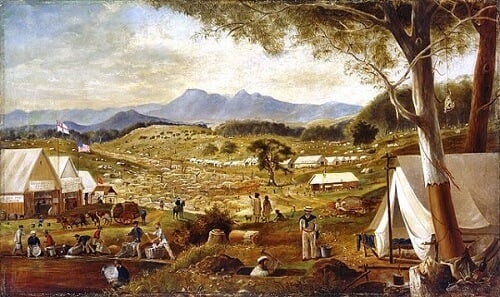 In 1854 the Victorian Gold Discovery Committee, set up to help direct the efforts of prospectors and offer rewards for claims, said: "The discovery of the Victorian Goldfields has converted a remote dependency into a country of world-wide fame; it has attracted a population, extraordinary in number, with unprecedented rapidity; it has enhanced the value of property to an enormous extent; it has made this the richest country in the world; and, in less than three years, it has done for this colony the work of an age, and made its impulses felt in the most distant regions of the earth."


---
Coolgardie gold rush
In later years, Coolgardie was the location for a renewed set of gold rushes, this time centred around Western Australia.
In September 1892, gold was found at Fly Flat in Coolgardie, by Arthur Wesley Bayley and William Ford. Bayley was rewarded with a 20 acre claim, and within hours of being registered, the gold rush first called the 'Gnarlbine Rush' had begun. The area was worked until 1963, and yielded an impressive 500,000 ounces of gold in its lifetime.
Mining in Western Australia meant overcoming much harder conditions; the hot sun and desert left little in the way of food or water, and many died of heatstroke and starvation travelling or working in the area. The idea of finding gold was enough for many to overcome the hardships though, and in ten years the population grew to 16,000. Transporting large amounts of gold across the harsh terrain was expensive and dangerous, but by 1896 a railway was built, providing miners with cheaper transport. By 1898, Coolgardie was Western Australia's third largest town, behind Perth and Fremantle.
Coolgardie was soon followed by Kalgoorlie, when a trio of Irish gold prospectors found gold in Mount Charlotte in 1893. Within three days of the claim being registered, an estimated 700 men made their way to Kalgoorlie to being prospecting the area.
The Perth Mint, Australia's primary modern-day mint and bullion refinery, opened in 1899 as a way to process the gold deposits that were found in Coolgardie and Kalgoorlie. To this day Australia remains one of the world's most prolific gold mining countries, continuing to profit off the gold rush started over 150 years ago.