Is Gold a Safe Investment?
---
A major concern for anyone with money is how to keep hold of it. Investors will often look to maximise the safety of their wealth but with so many options available to us today it can be difficult to know how to do this effectively. Bullion is a popular asset with those looking for a long-term store of wealth, but is gold a safe investment?
View our range of gold bullion bars.
View our range of gold bullion coins.
Banks offer us a way of looking after our money, with the promise of a small return every year in the form of interest. Other investments such as equity in a high performing company or a hedge fund offer the potential for enormous returns and can be attractive for those looking to increase their wealth. However, while maximising your wealth is one way to increase your financial security, are these types of asset, for all their potential returns, a safe choice? There are often huge levels of risk involved in these investments and businesses, banks, and other financial institutions are all vulnerable to economic collapse. Even leaving your money in the bank, the lowest risk of these options, can offer very low returns at times and, although they seem stable institutions, are vulnerable to collapse, leaving your hard-earned money in severe danger of being lost entirely.
A huge amount of investment in gold comes from individuals looking to protect their wealth from such dangers. Gold and other precious metals have been used as forms of currency and as symbols of status in jewellery and other items for thousands of years, testament to their intrinsic value. Precious metals have outlived other forms of currency and it is this timeless ability to maintain a high value that attracts investors who believe that gold is a safe investment.
This becomes clearer when we look at the behaviour of investors and what attracts them to gold.
Due to gold's reputation as a safe-haven, investors are drawn to the precious metal when confidence in other forms of investment is low, raising the gold price and supporting the idea that bullion is a safe asset. Conversely, many investors are often attracted away from gold when the economy is performing strongly and banks, shares and other financial assets are able to deliver regular returns, often pushing the price of gold down.
An investor who spent thousands of pounds on gold at its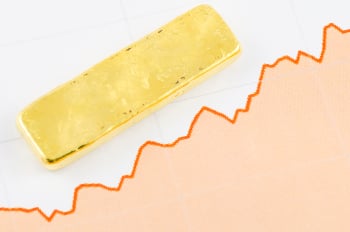 peak in 2011 will have lost a considerable amount of money as precious metals entered a sustained bear market lasting several years, and may argue that other investments would have been safer. However, while the value of other assets may have dwindled to nothing in such circumstances gold, even when well below its peak, maintained a value of hundreds of pounds per ounce. The price of gold does fluctuate and it is therefore possible to choose the wrong moment to invest, causing you to lose money. However, the fact that gold is a tangible commodity with an intrinsic value means that it is less likely than any other asset to completely lose its value. While paper currencies are prone to becoming completely devalued by hyperinflation, gold bullion is not, making it a safe investment for those looking to protect their wealth in the long-term.
View the latest gold price chart.
However much also depends on the way in which you invest in gold. There are many forms of gold investment, offering the opportunity to pin your wealth on the fluctuations of the gold price. Issuers of assets such as gold ETFs, unallocated gold bullion and gold futures will use gold's reputation as a secure and dependable commodity as a reason to invest in their product. However, despite being backed by gold, these contracts do not entitle the investor to any amount of physical gold. The validity and worth of such investments are ultimately dependent on the performance of the organisations issuing the contracts and, in the same way as any other paper or electronic asset, are vulnerable to entirely losing their value. For access to the long-term financial security offered by precious metals, then, the safest way is to invest in allocated, physical bullion bars and coins.