Royal Mint
---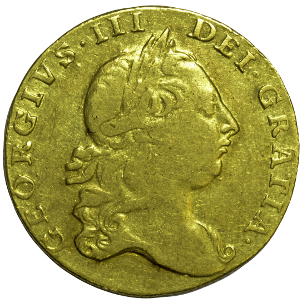 The Royal Mint is the organisation responsible for the production of British coins and is the official manufacturer of all coins in the United Kingdom. It has been in operation for more than a millennium, since it opened as the London Mint in the year 886 AD, and also produces coins circulated in more than 60 other countries. It is a name synonymous with quality and the Royal Mint has produced millions of bullion coins throughout its history.
---
Royal Mint Coins
BullionByPost stocks a range of bullion coins produced by the Royal Mint, including gold and silver Britannias as well as Sovereigns, Half Sovereigns and a range of proof and collectible coins. This adds an extra dimension to their value as investment coins, as any profit made from the sale of these coins is tax free. Although the premiums on coins are usually higher than bullion bars, this initial outlay could be offset by the tax benefits when the time comes to cash in on your investment.
BullionByPost stocks a range of coins produced by the Royal Mint. Most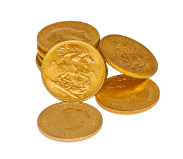 popular of our Royal Mint coins are gold and silver Britannias and Sovereigns – available in several denominations.
As well as uncirculated bullion coins, the Royal Mint also produces a large range of proof and collectible coins that attract slightly different interest. Proof coins differ from uncirculated coins in that their higher production costs mean they will usually come at significantly higher premiums than their bullion value.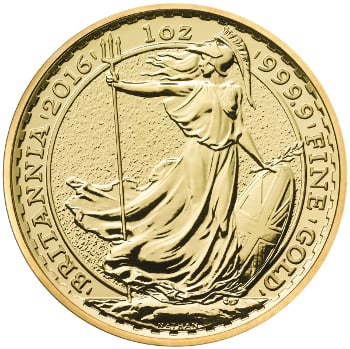 A great example of this is the Sovereign Five-Coin Proof Set. Each year the Royal Mint releases a set of coins consisting of proof versions of the 5 denominations of Sovereign. At the current spot price the combined gold content of these coins is worth around £1,790. However, the proof set would most likely trade for at least £1,000 more than that. Special edition proof coin sets will often be released by the Royal Mint in order to celebrate certain events or anniversaries.
It should be noted, however, that these coins will often come at inflated premiums due to their attraction to coin collectors, or numismatists. However, such characteristics do not increase the coins' intrinsic value, which is based purely on the value of its pure gold or silver content and not factors such as rarity or grade.
The Royal Mint's rich tradition and reputation for quality means that its products are recognised internationally, meaning there will always be a potential buyer for your Sovereign or Britannia. The Sovereign is widely acknowledged to be the world's leading bullion coin and have even been issued to soldiers to use in case of emergency when stranded behind enemy lines- testimony to the coin's international value and appeal.