BullionByPost® in the Media
---
Any media appearances by BullionByPost in the national or regional press can be found here. We have been featured by BBC News & Radio 4, The Sunday Times, The Daily Telegraph, MoneyWeek, the Financial Times, New Statesman, Money Observer, The Spectator, and even the New Scientist.
We also have a brand new TV advert airing on channels in the UK and Europe.
If you are a journalist and have a press/media enquiry please contact our Marketing Team at marketing@bullionbypost.eu.
.
.
---
Is investing in gold a good option?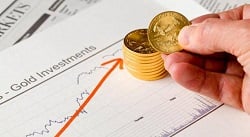 BullionByPost sister site Inversoro.es was recently interviewed by renowned Spanish financial news
group Dirigentes to gauge our thoughts on why gold is a strong safe haven asset to hold as part
of a wider investment portfolio. Parts of the interview feature in the group's Funds & Markets section.
Our French website, bullionbypost.fr, also attracted some media attention in recent weeks, with
French financial journalists Jean de Portal also quizzing our team about the benefits of owning
gold and just how competitive we are with our European rivals on items such as the Britannia
gold coins.
You can read (or Google Translate) our chat with journalist Patricia Malagón and Dirigentes here.
For our French feature in 'Alerte Jaune' please click these image links: Page 1, Page 5, Page 6, Page 8.
.
---
Political Uncertainty Pushes Online Gold Bullion Trading Up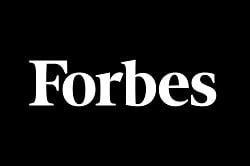 Rob Halliday-Stein, the MD of BullionByPost, spoke to the bi-weekly American business magazine
Forbes this week to discuss how political uncertainty was impacting on gold demand and the price
of the precious metal.
The article highlights how BullionByPost sold 30% more gold in two days this week compared to all
of last week, with UK demand being strongly influenced by the ongoing turmoil in Parliament.
"The current price means gold is approaching levels in sterling not seen since 2016," says Halliday,
"though with Brexit still to be resolved, the gold price could surpass the all-time high of £1,178 per
ounce set in September 2011." Click here to read the full Forbes article.
.
---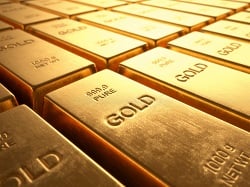 The Royal Bank of Scotland recently interviewed BullionByPost managing director Rob Halliday-Stein
about the gold market's current situation, as well as its prospects for the future and how BBP is coping
with 2018's unusual market behaviour.
The interviewer also speaks to Russ Mould, a well known investment director at AJ Bell, who expands
on Rob's insight and explains the strong connection between the US Dollar and the price of gold
globally, and how it holds greater sway than regional factors.
To read the full article visit https://rbsprivate.contentlive.co.uk/content/a-golden-opportunity-buying-gold
.
---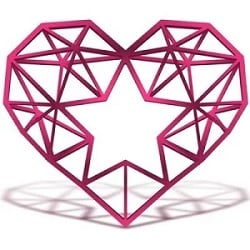 JQB reach UK Customer Experience Awards 2018 finals
Jewellery Quarter Bullion proudly reached the finals of the UK Customer Experience Awards
this month, with CEO Rob Halliday-Stein, PR Manager Daryl Jackson, and Customer Service
representative Saïd Khan giving the company's presentation to a packed room at Wembley
Stadium, before attending the evening awards ceremony.
Unfortunately we did not win either of the awards we were nominated for, losing out to British
Telecom in the ' CUSTOMER CENTRIC CULTURE - CUSTOMER FOCUS' and Skipton Building
Society in the ' FINANCIAL SERVICES - BANKING & INVESTMENT ' categories, but to make the
finals with such prestigious competitors shows that customers and industry personnel alike are
noticing the excellent work done at BullionByPost and GOLD.co.uk who belong to the JQB group.
You can see all the finalists and winners at https://c-x-a.co.uk/winners-and-finalists.
.
---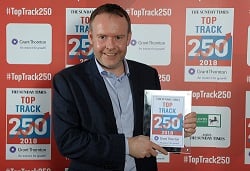 BullionByPost make the Top Track 250 for 2018!
BullionByPost (JQB) has officially made the Sunday Times Grant Thornton Top Track 250 for 2018!
The list, produced by one of Britain's best known newspapers, is a ranking of private mid-market
companies based on their sales. The result was announced on Sunday October 7th, with an awards
event to come in November. [Update: Event photo pictured right]
The rankings put BullionByPost/Jewellery Quarter Bullion alongside locals in Birmingham Airport and
West Bromwich Albion football club, as well as other well known institutions including Travelodge,
Wagamama, RAC, Lush, and Waterstones.
You can view all the rankings at http://www.fasttrack.co.uk/league-tables/top-track-250/league-table/
.
---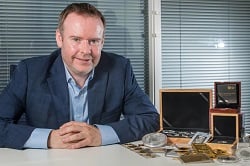 POT OF GOLD: Dad-of-two turned £10,000 into £100 million business selling gold bars and coins
BullionByPost Managing Director Rob Halliday-Stein was recently interviewed about how he started
the company, the difficulties along the way, and advice for aspiring businessmen and women on
how to achieve their goals and be successful in a difficult economy. . Click here to read the article.
.
---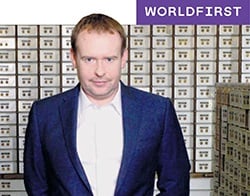 Setting the bar for bullion
Following BullionByPost's return to the Profit Track 100, Rob Halliday-Stein recently featured in
The Sunday Times discussing BullionByPost's history and the company's growth, as well as
speaking about our recent expansion into Europe and the difficulties of operating around Brexit.
Click here to view the article.
To read more, please visit The Sunday Times website at https://www.thetimes.co.uk/.
.
---
BullionByPost make Profit Track 100 for 2018!
BullionByPost has officially made the Sunday Times BDO Profit Track 100 list for 2018,
four years after their last appearance. The UK's biggest online bullion dealer* came in at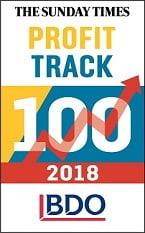 number 92; a remarkable achievement for a company that is no longer in its infancy.
The league table ranks Britain's 100 private companies with the fastest-growing profits
over their latest three years. It is compiled by Fast Track and published as a supplement
in The Sunday Times each April.
Speaking about the company's repeat appearance in the Fast Track 100, managing
director Rob Halliday-Stein said: "This is just the start. There are a lot of ambitious
plans for the future of the company. I started with the original aim
of being 'The UK's Number One Online Bullion Dealer'. We had a clear vision that that
was possible, and we firmly achieved that a long time ago.
"We are now looking forward to the next stage of the business and our vision is to
become the world's most respected online precious metals business. We are broadening
it out in terms of geography".
.
---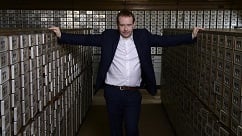 My Money... Rob Halliday-Stein
ROB HALLIDAY-STEIN started BullionByPost in 2008 with just £10,000. Claiming to be the UK's first
online bullion dealer showing live pricing, the 40-year-old's company now has an annual turnover of
more than £125 million, employs more than 40 people and is expanding into Europe.
Click here to read the full article on the Metro website.
October 24, 2017 | Metro
.
---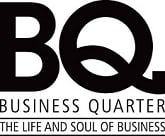 Birmingham's Golden Boy

Entrepreneurship and business magazine 'Business Quarter' took the time to interview
BullionByPost founder Rob Halliday-Stein, looking into our story and plans for the future.
Click here to read the full article on the BQ website.
February 2017 | BQ
.
---
Trump's victory drives influx of investors to BullionByPost

BullionByPost were featured in the BBC after Donald Trump's US election victory prompted
unprecedented demand for gold. The 24 hour period following the announcement of the new
president-elect saw an influx of investment into precious metals, and a record-breaking day for BullionByPost.
Click here to read the full article on the BBC website.
November 2016 | BBC
.
---
Britons watch their pockets, portfolios ahead of Brexit vote.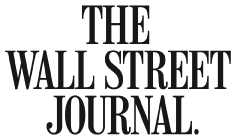 As the fall in sterling prompts a rush to exchange pounds, some dump U.K. equities and buy
gold. Polls were pointing to a U.K vote to leave the European Union and the pound was falling.
As the June 23 vote loomed, some Britons wanted to buy other currencies in case a vote for a
so-called Brexit caused sterling to plunge further.
The price of gold is up by 22% this year-to-date, with global concern over the British referendum
being one of the factors cited, analysts say. While that buying will have been driven by global
investors and Asian consumers, Brits have also been stocking up on gold.
Bullion By Post, the UK's largest online bullion dealer, said it was expecting June to be its busiest
month ever on the back of Brexit-linked uncertainty, peaking at the end of next week.
Click here to read the article on The Wall Street Journal website.
June 2016 | The Wall Street Journal
.
---
Brexit gold rush to generate £10m in a single day

BullionByPost, Britain's biggest online gold dealer, is forecasting its biggest ever trading day if voters decide on a Brexit. "We have a number of large clients waiting to place orders," claimed founder Rob Halliday-Stein. "Everyone is waiting for the referendum outcome.
"Gold rises on volatility and we've never had a day as volatile as a Brexit day in the gold
price market". BullionByPost has already seen increased activity in the run up to the
vote. Sales in the first two weeks of June are up 54pc on the same period last month.
Click here to read the article on The Telegraph website.
June 2016 | The Telegraph
.
---
My First Million - Rob Halliday-Stein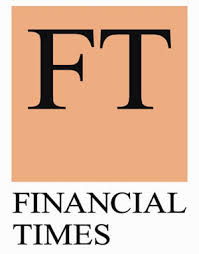 Read how entrepreneur Rob Halliday-Stein, 37, founded BullionByPost in 2008, using
£10,000 from his mother's will. After his mother's death, Halliday-Stein invested part
of his inheritance in physical bullion. Put off by the unfriendliness and high premiums
of traditional dealers, he recognised a gap in the market for the small investor, which
coincided with the banking crisis.
The company, which employs 25 staff, has handled over 100,000 deliveries and in
2013-14 sales hit £96m. Since April last year the company has offered a new bullion
storage service in partnership with secure storage firm Brink's .
Click here to read the article on the FT.com
May 2015 | The Financial Times

---
BullionByPost make Fast Track 100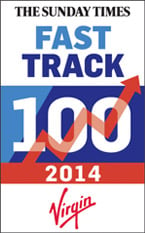 BullionByPost has made the Sunday Times Virgin Fast Track 100 league table for the first
time ranking 63 for 2014. The Sunday Times Virgin Fast Track 100 league table ranks the
UK's 100 private companies with the fastest growing sales over the last three years.
Click here to view the latest league table
Fast Track 100 is compiled by Fast Track and published in The Sunday Times each December
and awards private businesses run by entrepreneurs, has between 20 and 500 staff with
sales ranging between £5m and £100m.
Founded in 2008 by Rob Halliday-Stein, BullionByPost's sales hit £96m during 2014 achieving
a 3 year average sales growth of 59.57%.
December 2014 | Fast Track 100 - The Sunday Times

---
Scots flock to gold
Rob Halliday-Stein, founder and MD of BullionByPost, says the company saw a 41 percent
surge in gold sales to Scotland last week as residents fear a "yes" vote in the referendum.

Watch the video on the CNBC website
Sept 2014 | CNBC

.
---
BullionByPost founder named IoD director of the year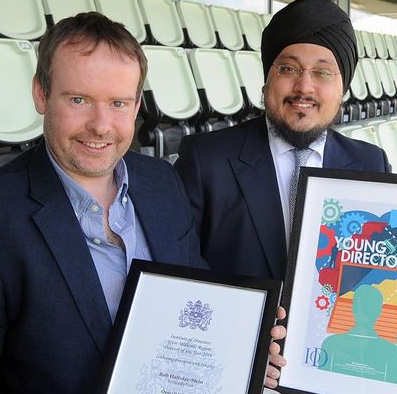 Rob Halliday-Stein, founder of BullionByPost, was named overall director of the year and
also young director of the year by the West Midlands branch of the Institute of Directors
(IoD) at its annual awards at Warwickshire County Club in Edgbaston.
Regional chairman Jason Wouhra praised Rob's entrepreneurial vision which he called a lesson to everyone who had a business idea and wanted to take it to market.
Rob Halliday-Stein founded the business in his home for £10,000 and now generates
turnover of £120m. BullionByPost, the UK's No.1 online supplier of gold and silver bullion, was created when the founder, Halliday-Stein, spotted a gap in the market to provide bullion directly to the public.
June 2014 | IoD
.
---
Rob Halliday-Stein joins Elliot Moss on Jazz FM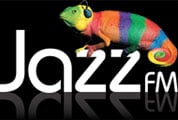 Founder and Managing Director of Jewellery Quarter Bullion Limited, Rob Halliday-Stein is
interviewed by Elliot Moss on Jazz FM. Rob tells how he spotted a gap in the market and turned
an initial £10,000 investment into a £100m a year plus business in five years.
Listen to the full interview on iTunes

May 2014 | Jazz FM
.
---
IN DEPTH: A bright future for silver?
Annual silver hallmarking figures have declined by six million articles in the past decade, but as the silver price eases, jewellery brands are reacting with fresh designs tailored to fit customers' spend.

The Professional Jeweller speaks to wholesalers, British brands and bullion dealers, including Rob Halliday-Stein, founder of BullionByPost, about what's new and next for the white metal.
Despite the changing tastes of consumers and the shift in jewellery trends creating a melting pot of innovative silver brands, Halliday-Stein highlights the two types of consumers buying silver from the UK's leading online bullion dealer, BullionByPost, "We have two customers buying silver; one for long term investments – people who are tucking something away for decades mostly who don't intend to sell it anytime soon – and the people buying it for gifts. Coins and small bars are very popular for christenings still and the current prices make silver look attractive again, which is obviously a good thing in terms of gifting and jewellery."
Read the full article on the Professional Jeweller website
May 2014 | Professional Jeweller

.
---
Indian silver imports fall as gold curbs ease
Professional Jeweller speaks to Rob Halliday-Stein, founder of BullionByPost, about the easing of import restrictions on gold into India and its side-effects on silver demand.
With India easing the restrictions on importing gold, Reuters have suggested that the demand for silver is likely to fall from the record high levels experienced in 2013. India, which currently accounts for 20% of the world silver consumption, tripled imports of silver in 2013 after restrictions on gold imports were put in place in a bid to cure a high current account deficit and combat illegal smuggling.
However, questions have been raised as to whether the industry should read too heavily into the situation in India. Halliday-Stein said, "The long term picture for silver is governed by so many factors it's difficult to predict" and later stated that the "fundamentals for silver are still very strong."
Read the full article on the Professional Jeweller website
March 2014 | Professional Jeweller
.
---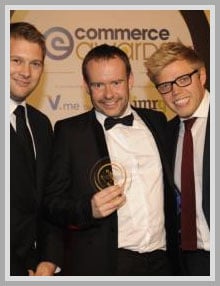 BullionByPost Scoop Best Financial Services Award

BullionByPost scoop the award for Best Financial Services at the eCommerce Awards for Excellence following another record year for sales.
BullionByPost were shortlisted in a competitive group alongside LV=, MyBank, Nutmeg, eWAY, Ukash, Avantia Group and 1st Central Insurance Management. The award was presented to BullionByPost Founder and Managing Director Rob Halliday-Stein by TV comedian and host for the evening, Rob Beckett.
October 2013 | E-Commerce Awards 2013

.
---
BBC Radio 4 Interview Rob Halliday-Stein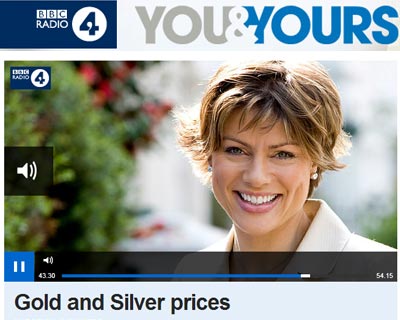 Listen to BullionByPost Founder & Managing Director Rob Halliday-Stein
interviewed on BBC Radio 4 You&Yours show on how the recent gold and
silver price drops have affected his growing business.
Rob explains how increased demand for gold and silver bullion has forced
him to recruit new staff and seek a new larger premises in Birmingham city
centre. Rob also goes on to detail how the recent price dip has resulted
in an unprecedented surge in demand for physical bullion with thousands of
new private investors buying gold for the first time.
Listen to the whole interview on the BBC Radio 4 website
Aired April 2013 | BBC Radio 4 You&Yours
.
---
BullionByPost's Gold Bars Star on BBC2 Newsnight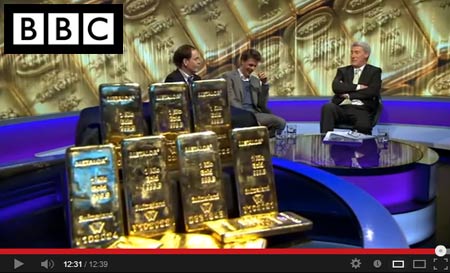 Market commentator Max Keiser (of the Keiser Report) and economist Daniel
Knowles appear with Jeremy Paxman on BBC Newsnight on Wednesday 17th April
to discuss the recent gold price falls alongside BullionByPost's 10 x 1KG
Metalor gold bars, valued in excess of £300,000.
Ex-trader Keiser continues to back gold and argues the fundamentals of owning physical gold have not changed claiming that the recent price dip offers individuals another great buying opportunity, while contrastingly Knowles is pro-paper.
Click here to watch the Keiser/Knowles debate on BBC 2 Newsnight.
Aired 17th April | Newsnight on BBC Two
.
---
Cyprus Bailout Woes Sparks Rush on Buying Gold
Fears about continuing economic instability across the Eurozone, exacerbated by the Cyprus bailout, have seen demand for gold soar according to internet dealer BullionByPost.
The company, which sells and delivers bullion to customers via Royal Mail, said it had seen weekly sales triple to more than £4 million in the past two weeks. It expects to record a turnover of £75 million for the year to the end of April, up 40 per cent on the previous year.
The company said most of the demand has come from new customers. It also claimed to have been 'inundated' with inquiries from people living in Cyprus wanting to buy gold. This includes Cypriots and British expats, as well as people living in the UK but with bank accounts in Cyprus.
.
Read the article on ThisisMoney.co.uk
Published 31st March 2013 | This is Money
.
---
How I Struck Gold on the Internet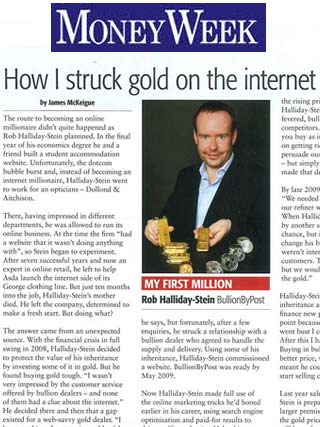 The route to becoming an online millionaire didn't quite happen as Rob Halliday-Stein planned.
In the final year of his economics degree he and a friend built a student accomodation website. Unfortunately, the dotcom bubble burst and, instead of becoming an internet millionaire,
Halliday-Stein went to work for an opticians - Dolland & Aitchison.

There, having impressed in different departments, he was allowed to run its online business.
At the time the firm "had a website that it wasn't doing anything with", so Halliday-Stein began to experiment. After seven successful years and now an expert in online retail, he left to help Asda
launch the internet side of its George clothing line. But just ten months into the job, Halliday
-Stein's mother died. He left the company, determined to make a fresh start. But doing what?
.
Read the full article on the MoneyWeek website (MoneyWeek subscription may be required).
Alternatively, view the article on the BullionByPost website.
Published 11 March 2013 | MoneyWeek
.
---
Striking Gold: Rob Halliday-Stein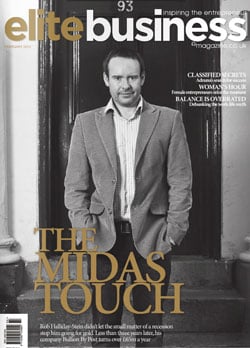 In a downturn, strong, fast-growth businesses are like gold dust: we need them if our economy is to grow and thrive. Birmingham's BullionByPost is well and truly a child of the recession.
All too often we hear about the losers of the recession; tales abound of businesses – large and small – going to the wall. Just last month, HMV and Blockbuster, two of the high street's best-known brands, hit the runners.
And then, every once in a while, a business emerges triumphant, like a phoenix rising from the ashes of our once-thriving economy. BullionByPost is one such firm. The founder of the Birmingham-based business, Rob Halliday-Stein, struck gold when he realised that the banking industry had gone to the dogs and people were looking for other ways and means to invest their cash.
.
Read the full article on the Elite Business website. Alternatively, view the article on BullionByPost.
Published 04 February 2013 | Elite Business Magazine
.
---