Royal Mint Coins
---
The Royal Mint - British Gold Coins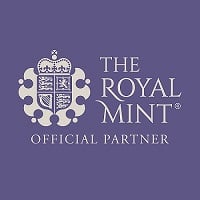 The Royal Mint exists primarily to manufacture, or mint, coins in the UK. The Royal Mint is also the
world's leading export of mint coins, and manufactures and circulates coins for over 60 other countries.
In addition to manufacturing mint coins, they are responsible for producing coin blanks and official
military and commemorative medals. The Mint originated over 1,100 years ago and has an exclusive
contract with HM Treasury to supply all UK coinage.


Here at BullionByPost, we are an official partner of The Royal Mint and stock a comprehensive range
of gold mint coins including Royal Mint bullion coins ideal for investment; all available at very low margins.
Produced by the Royal Mint, these British gold coins include the Britannia coins, gold Sovereigns, and their
popular series such as the Queen's Beasts. All these British gold bullion coins are highly attractive to UK
investors due to their status as British Legal Tender. Here at BullionByPost, we offer a comprehensive
collection of Royal Mint coins ideal for gold bullion investment at reduced margins.

Register for your free account today.


---
Britannia Coins
The 1 oz gold Britannia coin was issued by the Royal Mint in 1987 and is the most popular of all the British gold one ounce bullion coins. Gold Britannia coins contain one troy ounce of fine gold and has a face value of £100 making it the highest denomination coin of the realm. Gold Britannias are also issued in fractional sizes of one-half, one-quarter, and one-tenth of a troy ounce and with face values of £50, £25, and £10 respectively. The gold coins have a millesimal fineness of 917 (22 carat gold or 91.7%) with the non-gold component being copper until 1989 and silver from 1990.
The famous bullion Britannia gold coin has also been available as a silver coin since 1997. The silver Britannia £2 coin is the largest and purest legal tender coin in the UK. A long tradition continues by using the Great British national symbol Britannia making its first appearance on British coinage in 1672. As with the gold Britannia, the Britannia silver coin contains one troy ounce of fine silver, but the coin itself is heavier as it contains 95.8% silver.
---
Gold Sovereign Coins
The sovereign was first minted in 1817 and is perhaps the best known British gold bullion coin. Sovereigns have a nominal value of one pound sterling and are a 22ct gold coin (91.7%) with an actual fine gold content of 113 grains (7.3224 grams or 0.2354 trot ounce). Sovereigns were minted in the UK from 1817 to 1917, in 1925, and from 1957. Australia, India, Canada, and South Africa all occasionally minted the coins. The initial reverse type for gold coins was the shield and crown motif, supplemented on the sovereign with a heraldic wreath. This was succeeded by a portrayal of Saint George killing a dragon engraved by Benedetto Pistrucci. This same design is still in use on British gold Sovereigns , although other reverse designs have also been used during the reigns of William IV, Victoria, George IV, and Elizabeth II.
In addition to the full sovereign coin, the Royal Mint also produces a Half Sovereign coin which has a face value half of that of a Sovereign. Half Sovereigns are known to be the best value small gold bullion coin for UK investors. Both Sovereign bullion coins make ideal investments thanks to their low premiums, and global recognition.
Here at BullionbyPost, we hold a wide range of full bullion sovereigns and half bullion sovereigns at low margins, whether you're looking for brand new latest-year bullion Sovereigns in mint condition, mixed years Sovereigns for the ultimate value, or a specific year or type of Sovereign to complete your collection.
---
Gold One Pound Coin
The British gold one pound bullion coin weighs 19.6 grams and as it is 91.67% gold (22ct gold), it contains 17.98 grams of fine gold. The gold £1 coin is produced every year by the Royal Mint with the designs not differing from the standard one pound coins that we are all used to seeing every day. Here at BullionByPost, we hold a number of different £1 coin designs in stock from different years.


Gold Two Pound Coin
The two pound gold coin was released in 1820 by the Royal Mint and is still sometimes referred to as a double sovereign . The gold two pound coin was an occasional feature of the British currency from 1823 until 1996 and has been minted each year since 1997. The coin weighs 15.98 grams and as it is 91.67% gold (22 carat), it contains 14.63 grams of fine gold. The design tends to mirror that of the gold sovereign, so that the reverse usually features Benedetto Pistrucci's magnificent rendition of Saint George slaying the dragon.


Gold Five Pound Coin
The Royal Mint gold five pound coin , often referred to as the quintuple sovereign , is the largest and is often thought of being the most impressive of British gold coins. First struck in 1820, the coin's design generally follows that of the sovereign, so that the reverse usually features Benedetto Pistrucci's magnificent depiction of St. George slaying a dragon. The £5 gold coin weighs 39.94 grams and is a 22ct gold coin containing 36.6117 grams of fine gold.


Royal Mint British Gold Coins
Here at BullionByPost, we stock a great range of bullion British gold coins manufactured by The Royal Mint. Buying British 22ct gold coins is a popular and often favoured method of investing in physical gold bullion among UK investors.


---
Gold Proof Coins
In addition to uncirculated British gold coins, the Royal Mint manufactures proof coins. A Proof coin is a coin that was struck using a special labour intensive, high-quality minting process. Proof coins are made solely for the purpose of being collectable and hold value both for their intrinsic fine gold content and as a collectable. Modern day proof coins have mirror-like fields and frosted devices, although proofs struck before the mid twentieth century are often distinguished by their high quality surfaces. Proof coins should never be seen in circulation due to their quality and are struck in an entirely different part of the mint.
Here at BullionByPost, we are a Royal Mint authorised distributor and stock a wide range of gold proof coins and sets , uncirculated coin sets and limited edition gold mint coins available at very low margins. We have a number of great looking Royal Mint gold proofs, uncirculated and special coin sets in stock, featuring a range of years and coins, including proof sovereign coins and proof Britannia coins. All proof mint coins and proof mint coin sets come in official Royal Mint branded presentation boxes and contain a certificate of authenticity containing the date of release.
Gold Proof £5 Coins
We have a great collection of proof five pound coins otherwise known as Quintuple-Sovereign coins or a Crown. We also stock a brilliant uncirculated gold five pound coin which comes boxed with a certificate of authenticity and is available in a variety of specific years including 1992, 1997, 2003 and 2007.


Gold Proof Britannia Coins
We stock the Royal Mint's stunning gold Britannia coin proof four coin set from 2011 boxed with a Certificate of Authenticity. The stunning Britannia set is limited edition with only 1,000 made and contains four gold coins: one ounce, half ounce, quarter ounce and a tenth ounce coin. We also stock a mixed year proof Britannia gold collection available in variety of mixed years between 1987 and 2005 which comes in a Royal Mint presentation box and certificate of authenticity.


Gold Proof Sovereign Coins
Specific year gold proof Sovereign are very popular minted coin and are available in a variety of years from 1980 to the present. As well as the proof Sovereign coin we hold a variety of gold proof Sovereign sets. The beautiful 4 coin gold proof Sovereign sets feature multiple sizes of these beautiful coins.
Complete with its own certificate of authenticity and packaged in a good-looking light red or green leather case depending on year of release. These four gold Sovereign sets contain the classic design by Benedetto Pistrucci with a portrait of Queen Elizabeth II on the obverse. This Royal Mint proof set is also available as a 3-coin gold proof Sovereign set featuring a Double Sovereign (£2 coin), Sovereign and Half Sovereign gold coins.
Gold Proof 50p Piece
Gold proof fifty pence piece coins are another way to own a piece of beautiful Royal Mint coinage. We stock multiple examples of these coins, which often commemorate key people, characters and events from British culture, making them very popular with collectors.
BullionByPost, part of Jewellery Quarter Bullion Limited, is a Royal Mint authorised distributor of proof coins and proof coin sets.