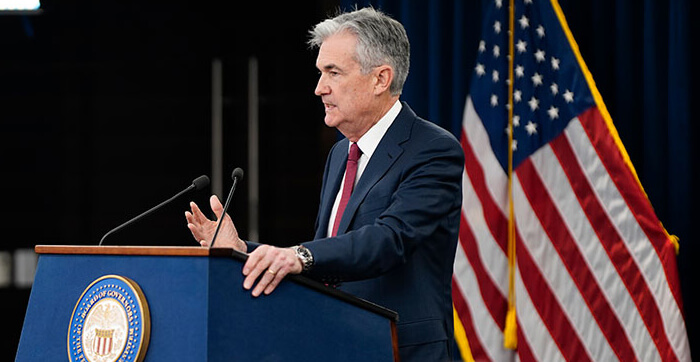 Photograph of Jerome Powell, courtesy of the official US Federal Reserve Flickr account
The Federal Reserve raised US interest rates by 0.25% last night, pushing rates up to a range of 2.25% to 2.5%. The decision was taken despite being urged not to by the President – an intervention considered improper by many due to the intended independence of the Federal Reserve.
Jerome Powell, Chairman of the Fed, announced that the US economy had a growth forecast of 2.3% for 2019 and that further rate rises would be far more infrequent, committing to only two rises next year.
Mr Powell also spoke about President Trump and the impact on the Federal Reserve's independence, saying that pressure from politicians played "no role whatsoever" in the decision making of the Fed and they were doing the "right thing". Powell also confirmed that the Fed wouldn't capitulate to the President's wishes to change its stimulus programmes.
The comments come in response to President Trump's comments on Twitter – the most recent of which can be seen below:
I hope the people over at the Fed will read today's Wall Street Journal Editorial before they make yet another mistake. Also, don't let the market become any more illiquid than it already is. Stop with the 50 B's. Feel the market, don't just go by meaningless numbers. Good luck!

— Donald J. Trump (@realDonaldTrump) December 18, 2018
In response to the rate rise, Asian markets slumped immediately, with Tokyo's Nikkei 225 dropping by 3% to a 14-month low. The wider Japanese Topix has felt the pain of these rises more, as seen below:
Japanese stocks enter a bear market as the Federal Reserve and Bank of Japan add to mounting investor concerns https://t.co/D4E9XsZsaK pic.twitter.com/EISUzZVjjt

— Bloomberg (@business) December 20, 2018
Elsewhere, European markets are also down, with the FTSE 100 and 250 at their lowest points since September 2016 and the Stoxx 600 also down. The FTSE 100 had fallen by 1.6% at one point this morning, though it has since shown some resilience to limit that to a 0.7% loss, equal to 50 points.
Mining stocks and energy firms are the main victims of the desire to sell off shares, though retailer Next revealed a 4.5% share value drop today.
Criticism of Jerome Powell and the Fed has come from all sides in response, with some complaining that he is underselling the US economy's strength and others arguing that he's overselling it ahead of economic cooling.
In response to the market struggles, the price of gold is up at $1,255.52 – a gain of $6.82 per ounce.
You can see footage of Jerome Powell's speech to reporters below, via the official Fed Res Youtube channel: