After four days of intense negotiations the 27 members of the European Union have agreed a record breaking 'recovery package' for the EU totalling €750 billion.
The talks have been described as a marathon and fractious, with the self-styled 'frugal four' nations – made up of Austria, Denmark, Netherlands, and Sweden – opposing the measures and forcing a compromise of a slightly lower amount than originally proposed.
.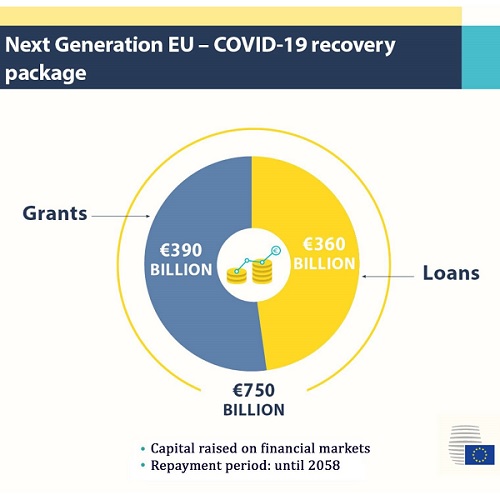 .
The end result is a fund composed of both loans and grants that will be given to the hardest hit nations in the EU, such as Italy and Spain; both of which have suffered significant loss of life from coronavirus, and economies decimated by the severe lockdowns, and loss of tourism.
The financial aid will come with several caveats and restrictions, with members able to block plans if deemed misuse of the funds. Another compromise for the 'frugal four' saw those countries getting rebates to sweeten the deal.
Unsurprisingly but worryingly, the EU is set to borrow all €750 billion of the bailout in order to fund it, continuing the growing trend of exceptionally high debt growth in 2020. The package is also extremely long-term; with loans given until 2058 to be repaid.
European stock markets welcomed the news, with Germany's DAX Index rising initially before falling back. Globally, investors are still turning to gold and silver to protect their wealth, with both metals hitting multi-year highs today in Dollars.
While many investors are optimistic about economic recovery, the growing number of coronavirus cases – particularly in America – is clearly weighing on their minds, and are keeping one eye on bullion as a way to diversify and protect their wealth.