Around the world passenger airline industries have been amongst the worst hit businesses from the current Coronavirus crisis. With their planes grounded, some of the largest airlines are facing collapse or require government bailouts in order to keep flying.
In contrast, many cargo carriers have never been busier. This is because of the massive reduction in cargo carried by passenger planes, as well as an increase in shipping demand, created by the surge in online sales during the pandemic.
An example of this is online gold sales, which have soared during the crisis. Investors have turned to safe haven precious metals to protect their wealth during the crisis. This had led to a massive increase for secure international cargo carrier flights to transport these precious metals around the world.
European passenger airlines however have been forced to pin their hopes on government support, and a restart to full domestic and short-haul flights. As Covid-19 progresses around the world, international and long-haul passenger flights present a greater problem.
.
British Airways
As coronavirus cases increase, individual national measures to protect their countries from international transmission are making long-haul passenger flights extremely difficult. These include the UK government's 14-day quarantine requirement for those arriving in the UK.
This is due to begin on June 8th and will apply to all visitors or returning nationals. Exceptions will be made for seasonal agricultural workers, medical officials, road haulage and freight workers. It will exclude anyone from the Republic of Ireland, the Channel Islands, or the Isle of Man. There has been an outcry from British carriers against the legislation, and MPs are believed to already be looking at ways to mitigate it's impact on more people.
The Guardian reports British Airways is considering closing its operation at Heathrow's Terminal 3 completely and shrinking its footprint at Terminal 5. It could also outsource jobs and create up to 12,000 redundancies. This is despite the government previously paying to furlough 30,000 BA workers.
.
Lufthansa
Faced by similarly enormous problems, the German passenger carrier, Lufthansa has been thrown a lifeline from their government. It has agreed a €9 billion ($9.8 billion) bailout which gives the government in Berlin a veto in the event of a hostile bid for the airline. Plus, to satisfy EU competition rules it will forgo some landing rights to other European airlines.
The Lufthansa group also owns the Austrian Airlines, Swiss and Eurowings brands. Even before the current crisis it had been forced to close its low-cost Germanwings flight operations.
The German Finance Minister, Olaf Scholz, issued a statement on the bailout, saying "The support that we're preparing here is for a limited period." He continued, "When the company is fit again, the state will sell its stake and hopefully ... with a small profit that puts us into a position to finance the many, many requirements which we have to meet now, not only at this company."
.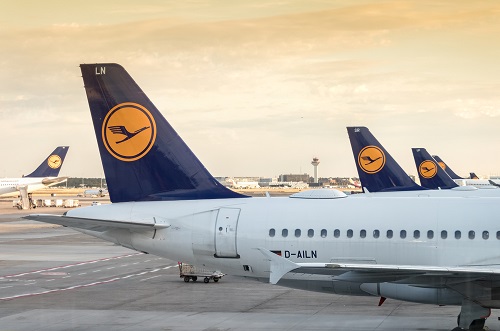 The German government bailout for Lufthansa will be challenged by its competitor Ryanair
However, low-cost carrier Ryanair sees the German aid as unfair competition and will challenge the decision. Ryanair Chief Executive Michael O'Leary said, "Ryanair will appeal against this latest example of illegal state aid to Lufthansa, which will massively distort competition."
.
Air France-KLM
French-Dutch airline, Air France-KLM is faring little better. It is currently negotiating a package of up to €4 billion in Dutch state aid for KLM. Should they agree to the terms it would be just part of a wider French-Dutch bailout of Air France-KLM airline group.
In 2019, even before the current crisis, the Dutch government bought a 14% stake in Air France-KLM. It has recently been ruled to be against national competition laws, however the ruling does not mean the €774 million government stake in the airline will have to be repaid.
.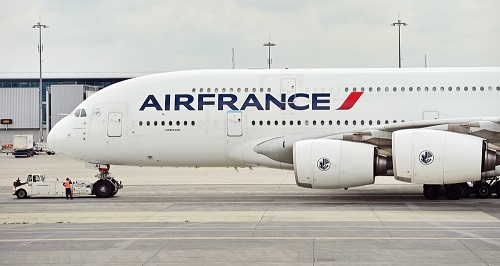 Even before the current crisis Air France had announced the grounding of its flagship Airbus A380 passenger plane
On May 20th Air France-KLM also announced the "definitive end of Air France Airbus A380 operations", which was its flagship service. At the same time, it entered negotiations to reduce its workforce by up to 60%. No details have emerged from the opening talks with French unions, but the company has already identified opportunities for voluntary layoffs.
.
A new normal?
In a final blow to major airlines the Covid-19 pandemic has seen growing acceptance of online conferencing and communication. Many technology commentators believe this will be a permanent change to the way business is conducted. They see fewer and fewer businesses attending conferences and a fall in work related travel. All this is grim news for the passenger flight industry in what has certainly been a collapse rarely seen in any industry.
This is of course just one part of the global economy, and reflects the international impact the virus has had on businesses around the world, and the long term recession it is expected to trigger.