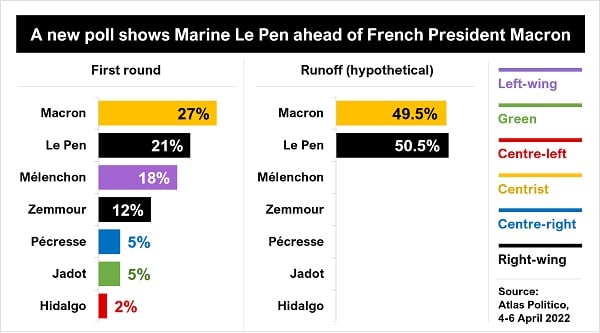 French Presidential Election polling sourced from Atlas Politico via Twitter.


France's chief stock market, the CAC40, has been in decline for the past five days as opinion polls surrounding the upcoming French Presidential Election put far-right candidate Marine Le Pen a fraction behind incumbent Emmanuel Macron in the second-round runoff for president.
The graphic above shows that whilst Macron enjoys a lead in the first round of polling, the second round head-to-head versus the next most popular candidate pits Macron against Le Pen, and the opinion polls suggest she is the more popular second choice than Macron – albeit by a very fine margin.

Google's charts shows the CAC40 falling from 6,672 points to 6,508 points this week. According to The Guardian the big losers were French banks; Societe Generale, Credit Agricole, and BNP Paribas all seeing share price drops between 4.5% and 5.6%.
Le Pen on French radio: "I campaigned in a serious way. I've been on the field for more than six months, I have brought up all the subjects preoccupying the French people. "Others didn't campaign, it's a choice." https://t.co/QvskZbTH5L

— Lewis Goodall (@lewis_goodall) April 6, 2022
Le Pen's growing popularity – and the banking system's unhappiness - stems from promises to nationalise certain parts of France's infrastructure, but also the promise to lower the retirement age to 60; a direct contrast to Macron's desire to raise the age to 65.
Polling is never truly accurate, but given Macron enjoyed a much more comfortable lead at the last election it's telling that he's no longer a certainty as the French leader, and this could have a knock on effect across the Eurozone for investors.