Demand for gold remains high in 2022, with central bank buying and bullion demand in particular boosting the precious metal back to pre-Covid levels.
The World Gold Council have released their latest gold demand trends report, covering Q3, and offering a useful insight into what is driving current gold demand. The pandemic had seen demand trends change, falling overall, and current economic conditions are driving similar change now.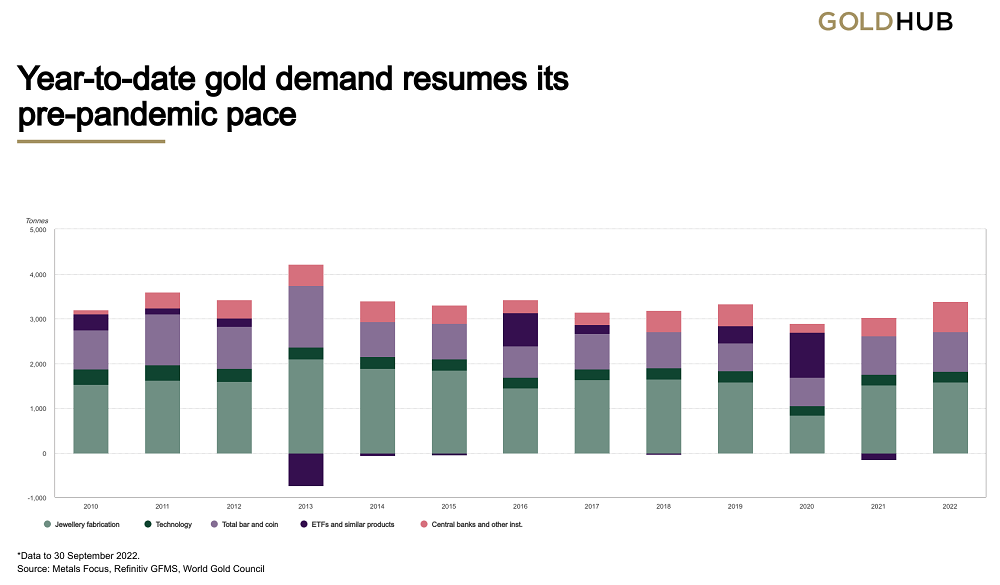 One of the key drivers for gold demand in Q3 has been central bank buying. Due to data lags and some countries not reporting, the WGC is clear they can only estimate, but believe Q3 was a record period for gold reserve purchases at a total of 399.3 tonnes. Turkey, Uzbekistan, Qatar, and India all made significant purchases in particular. It has been a clear trend for emerging markets in recent years to increase their reserve holdings in gold, moving away from the dollar.
Jewellery consumption, a sector which accounts for almost 50% of overall gold demand, is also up 10% year-on-year. With the economic outlook poor and consumer spending squeezed by the cost-of-living crisis, spending on luxury items would be expected to fall, but Q3's rise is a good indication that markets like India and China remain strong, keeping gold demand high.
Investment demand was a mixed picture. Demand for physical bullion bars and coins grew by an impressive 36%, the third year of growth. This was pulled down however by ETFs and futures which saw weak demand.
Demand from the tech sector was also down, reflecting an overall fall in output and consumer demand for electronics in general due to the economic downturn. Technology accounts for a relatively small portion of gold demand, but could continue to fall in 22/23 given the current expectations for recession to come for many countries.
Demand for gold looks strong then, and certainly reflects what we've seen regarding bullion for investment purposes. If ETF demand picks up, then investment demand could account for a significant portion of growth in 2022. Jewellery demand could also be a key market to watch given its large proportion of total demand.