Having reached a new UK record last week, the gold price has pulled back this week following a strong job report in the US. Markets are now trying to work out the direction the Federal Reserve will take on interest rates at their next meeting. The decision the Fed make will be a key mover for the gold price in March.
When the Fed announced their latest rate decision last week, markets were cheered by the smaller increase, and expectations rose that it could be the last hike. Speculation even grew that the Fed could begin reducing rates by the end of this year as inflation fell, and in a bid to ensure a 'soft landing' that saw the US economy avoid a recession.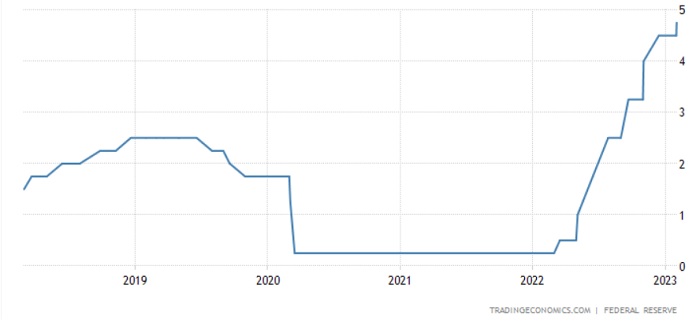 These expectations saw the US dollar fall, pushing gold as high as $1,959.97 per ounce, and to the aforementioned UK record of £1,592.60. A very strong jobs report from the US on Friday however quickly saw the dollar's – and by extension gold's – fortunes reversed. With the US jobs market and manufacturing output still looking healthy this gives the Fed room to continue with hiking rates, with less fear of causing a recession.
Though inflation figures have so far suggested a peak, they still remain far above the Fed's 2% target, and Chairman Jerome Powell was clear that the Fed would maintain rates or raise them further if needed to bring inflation back down to that target. This saw the dollar climb once more, pushing gold back down to a low of $1,861.79 per ounce.
This week has seen yet another flip however as Powell stated that the US does appear to be entering a period of disinflation (falling inflation). The dollar has slipped back down, and gold is back up to $1,881.29. This tug of war between the dollar and the gold price is likely to continue for the next few weeks, when the Fed meets in March for their next rate decision.
US economic data in February could be key however in helping the Fed make their decision. If figures suggest a strong economy and jobs market, and inflation doesn't come down significantly this could spur further rate hikes, a stronger dollar, and lower gold price. If inflation continues to fall however, and there are signs of the economy weakening under the burden of high interest rates then the Fed could pause hiking, bringing the dollar down and gold back up towards the US record.