Gold has climbed to a 10-month high this morning of $1,909.96, following a further slow down to the rate of inflation in the US. Annual CPI figures came in at 6.5% for December following 7.1% inflation in November.
Despite the current rate still coming in more than three times the 2% target of the Federal Reserve, markets are hopeful that the slowdown could spur the Fed to slow down with the aggressive interest rate hikes of the past year. If inflation continues at this pace however throughout 2023 this would still represent painful price rises for consumers, and the Fed would likely keep raising rates at the risk of a US recession.
The Fed are due to meet in February for their next rate decision and investors are speculating whether they will hike by 25 or 50 basis points. The dollar dipped as markets hoped for lower rate rises going forward and helped push gold up. Should February's meeting see a higher-than-expected rise however, or inflation figures remain stubbornly high for longer than forecast then it could see the Fed return to more aggressive hikes.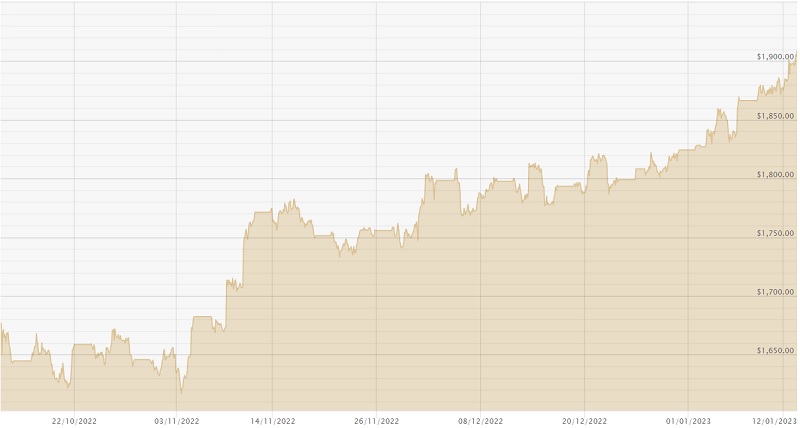 The news saw an initial spike in the gold price before falling back, likely on some initial profit-taking, but gold has held up well, and pushed back above $1,900 per ounce this morning. The last time gold was this high was April of last year following the initial price surge following the invasion of Ukraine by Russia. Since falling across much of the summer, gold is now up more than 13% in the past three months in USD.
In USD the previous high of $2,078.80 is now well within reach, and the economic landscape seems well poised to see gold push to new records in 2023.