Gold has successfully bounced back after falling below $1,900 per ounce last week and continues to show resilience in 2023 despite headwinds from likely rate hikes to come in the next few months.
Since testing all-time highs back in May, gold has pulled back as investor sentiment turned riskier, and the dollar index rallied on higher US rates. Despite pausing at their last meeting, the Fed's latest communications suggests that there will be more hikes to come, with the current market expectation suggesting two further 0.25%-point hikes before the end of the year.
Further rate hikes should see USD strengthen further, and push gold lower, and this seemed to be the case last week when gold fell below the key $1,900 per ounce level. Gold slipped to $1,893.46 last Thursday, and some analysts expected the metal to fall further as bears gained momentum. This was the first time gold had been below $1,900 since March, when the banking crisis sparked the latest rally for gold, before intervention in the market stopped the run from spreading to other banks.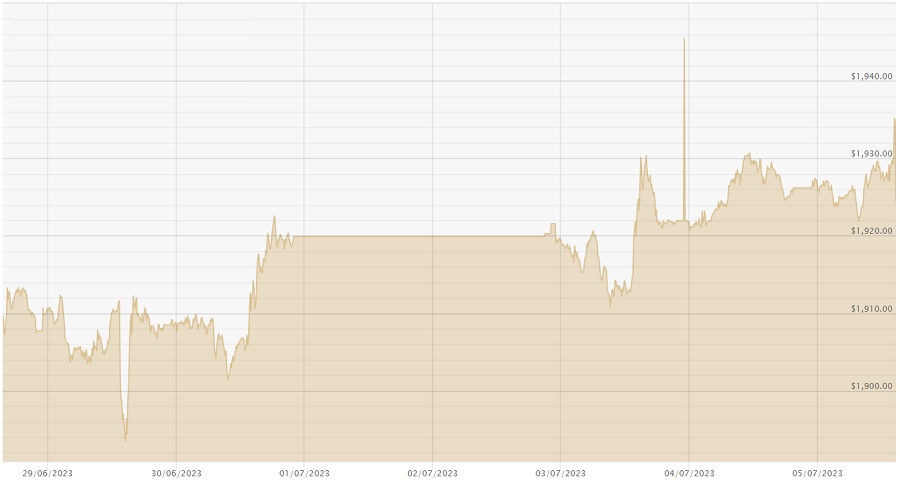 Instead, gold has recovered well, gaining more than 1.5% since last Thursday to trade at $1,923 per ounce today. The minutes from the Federal Reserve's last FOMC meeting are due to be released today, and markets will likely be poring over every word for indication of how the Fed will act when they next meet.
As mentioned above, expectations are for further hikes to come as the US attempts to take the final steps in bringing inflation down from 4% to their target of 2%. There could be some weakness in gold to come then, should the expectations prove true, but markets seem reluctant to truly price-in two further hikes, and this is currently supporting gold.
Economic data from the US has been fairly mixed in recent months; for every report that shows manufacturing and consumer spending struggling, others show falling unemployment and higher business confidence. The possibility of a recession in the US, and the uncertainty over which way the Fed will move on rates at it's next meeting, is keeping gold in the $1,900 region for now. When the Fed release their rate decision on July 26th, this will likely be the next key date to expect movement in the gold price, be it up or down. With rates so high though, gold remains impressive in the resilience it is showing at the moment – a testament to the high demand for the metal around the world.