Banks around the world have seen a 'brutal' sell-off in the past 24 hours, triggered by a share sale by Silicon Valley Bank that has caused a domino effect for the banking sector globally that has raised fears of a new potential banking crisis.
SVB was a key lender to technology start-ups in the US, offering finance to a large number of US companies. Like many banks it was loaded up on treasuries and other assets that were currently sat at a large loss due to the high increase in US interest rates over the past year. In an effort to shore up their balance sheet SVB announced a share sale worth $2.25bn.
The sale saw their shares plummet 60% in value, followed by another 20% in after-hours trading. The loss has also seen investors in SVB withdrawing huge amounts of funds and could see further pain for the bank in the coming days.
The panic has seemingly spread market-wide however, as investors realise that many banks are sitting on similar losses, and could just as easily need to sell such assets to try and stay afloat. Trading in the US yesterday saw the big four banks – JP Morgan Chase, Bank of America, Citigroup, and Wells Fargo – lose $50bn of their market value in the rout and could see further losses when Wall Street opens later today.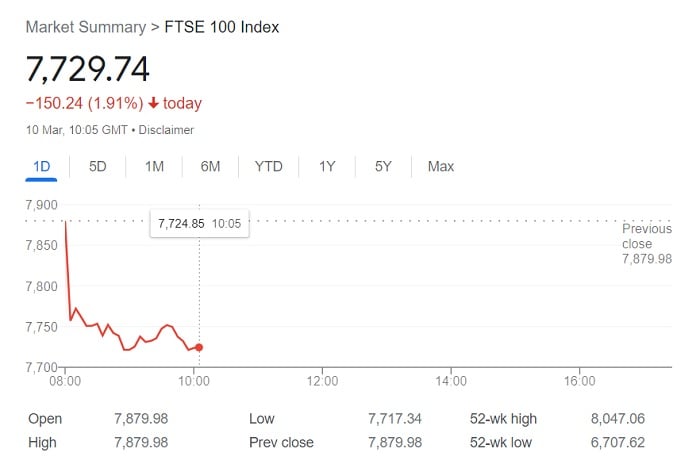 This fear has also spread to other markets with UK banks Barclays, Nat West, Lloyds, and Standard Chartered all down 4% or more when trading opened today. Any signs of a liquidity crisis at the major US, UK, or European banks could spark even greater losses, and its unclear now how far or deep the losses will go.
This week's crisis comes at a difficult time for banks, with recent closures in the crypto space putting more pressure on traditional banks. Crypto-focused bank Silvergate announced liquidation just a few days ago, as customers continue to exit the highly volatile assets following some steep losses in recent months. This of course follows the collapse of FTX at the end of last year.
Banks have enjoyed a long period of near-zero interest rates and fiscal stimulus, but the Federal Reserve's aggressive hikes on US interest rates to 4.50% to 4.75% have seen a reversal in fortune that could spell more trouble in the months ahead. Alternatively, any signs of a banking crisis could perhaps prompt a pivot from central banks to bring rates down sooner than expected, despite inflation remaining far above targets.