Following another chaotic weekend, markets seem somewhat calmer today following the dramatic buyout of Credit Suisse (CS) by rival bank UBS. Despite some surprising terms that saw CS AT1 bond holders wiped out in the deal, investors are hopeful further contagion has been avoided for now.
The rest of the week will be telling however, with both the Federal Reserve and the Bank of England due to announce their latest decisions on interest rates. With aggressive tightening of policy being blamed for the recent collapse of several banks, further hikes could add more pressure to the struggling system, and all eyes will be on the announcements.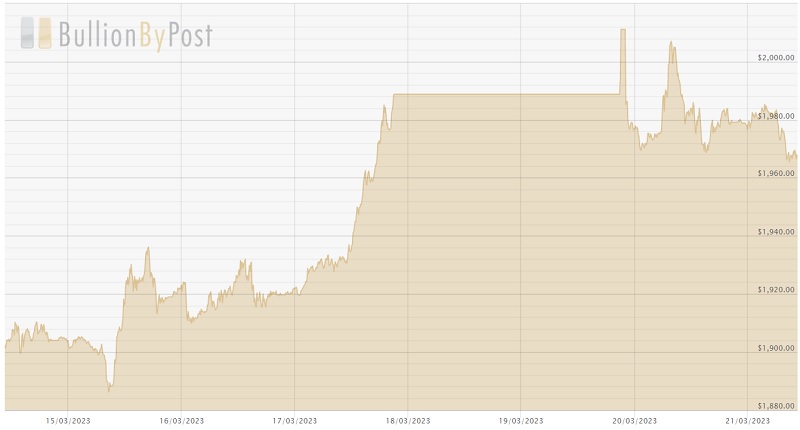 As shown in the chart above, the gold price initially climbed above $2,000 per ounce as markets opened after the weekend. This was the first time in just over a year that gold had reached such highs and put it roughly $70 from the all-time high. Resistance at this level, and the acceptance of the CS takeover however has seen gold fall back to around $1,960 today.
In the UK, gold soared to yet another record of £1,648.64 per ounce, and is up an impressive 10% in the past ten months. Despite the pull back gold remains above £1,600 per ounce today, sustaining last week's record. £1,700 per ounce looked well within reach on Monday and could still be reached should panic return to the market in the coming days.
The Federal Reserve and Bank of England will be faced with an extremely difficult decision on raising interest rates. Inflation remains far above targets as prices continue to rise, and interest rates were expected to be hiked at least once more to try and bring inflation down further. The European Central Bank last week followed this logic and hiked rates against market expectations.
Instead, with banks collapsing or requiring huge bailouts and liquidity injections, the Fed and BoE may choose to prioritise market stability over inflation. For the Fed in particular however, if they do choose to pause or even cut interest rates this will likely have negative ramifications for the dollar. USD has enjoyed strength in recent weeks on the back of high rates, and expectations of further increases, but could soon see this reverse if rates have now peaked.
Additionally, though the takeover of Credit Suisse has settled markets for today, it remains to be seen if the crisis is truly over. Banks like First Republic have also been struggling under buckling share prices and mass customer withdrawals. There are likely many small banks struggling to keep afloat after the last two weeks, and it will not take much to push markets back towards panic mode.