After two weeks of volatility, has the mini banking crisis been averted? Markets seem to think so based on trading so far this week. After passing $2,000 per ounce several times in the past fortnight, gold has now settled at around $1,950 per ounce as traders take in the current banking conditions.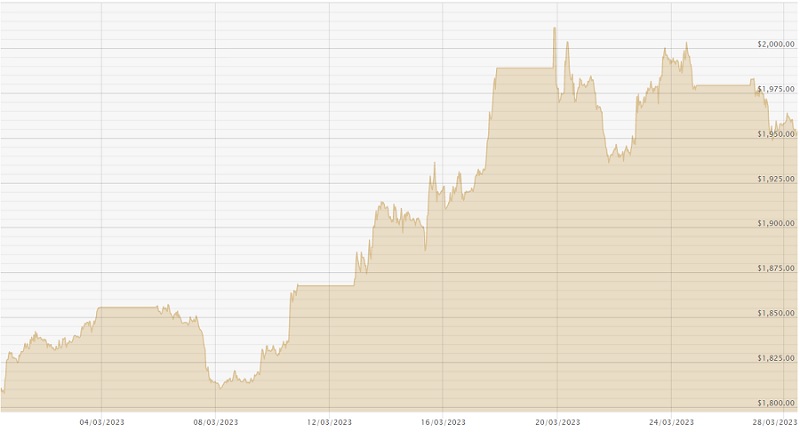 Markets had been volatile heading into the weekend following the surprise decision by the Federal Reserve to hike interest rates by a further .25% points. Given the fragility in the banking sector, many had expected the Fed to pause hiking, and the decision to push ahead had raised concerns that more banks might collapse under the pressure.
First Republic in the US and Germany's Deutsche Bank were both in the spotlight for potential collapse. DB in particular was closely watched as a 'too big to fail' bank whose collapse and rescue would have sent shockwaves throughout the financial world and had the largest repercussions for the global economy at large in the current crisis.
As markets reopened this weekend however it seemed that no news was good news as far as Deutsche Bank was concerned. It's share price has recovered more than 10% from the lows seen last week, though it remains down 24% so far in the past month as uncertainty remains. First Republic also recovered 11% on its share price in trading yesterday.
In the US, markets were cheered following the announcement that Frist Citizens will acquire the majority of the failed Silicon Valley Bank. Regulators have confirmed that the collapse of SVB will cost $20 billion in insurance pay-outs on deposits.
For now then, markets seem content that the contagion may have been halted with the takeover rescue of Credit Suisse and now SVB. This has seen gold pull back to $1,950 per ounce, still at a level not consistently seen since April 2022 and up 8% in the past month. For the UK this has seen gold pull back under £1,600 per ounce, but it is still just £60 per ounce from the new all-time UK high of £1,648.64.
The next two weeks will likely be key for the gold price. If there are no more bank collapses gold could pull back further, but any sign of further stress in the system will likely see gold climb once more, and it will not need much encouragement to test the US record. Interest rates will be another factor to consider however; the Federal Reserve will next meet at the start of May, and the decision they make could have a big impact on the dollar, and therefore the gold price.