Gold and silver prices have seen a sharp downturn this week as the dollar continues to strengthen and bond yields rise. Gold has fallen 2.8% in USD since markets opened this week, dropping below the key $1,900 level, with silver down 4.6% in the same period.
Markets have turned increasingly volatile recently, and with US interest rates expected to rise at the Fed's next meeting, the dollar has continued to strengthen against other currencies. The Dollar Index hit a 10-month high this week, while 10-year US treasury bond yields hit their highest since 2007, just before the Global Financial Crisis.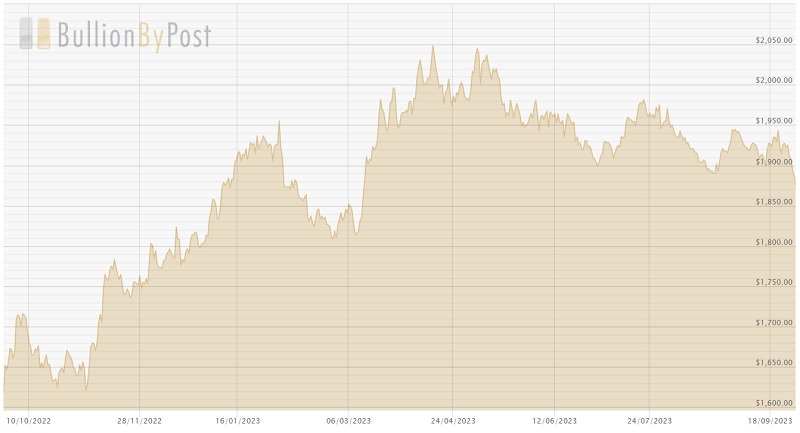 While the current economic conditions are technically bearish for gold, as demonstrated by the falling price, alarm bells are beginning to ring as to the state of the global economy. In the short-term, the US government faces a 'shutdown' on Sunday as the two parties argue over spending plans that could see disruptions to services and federal employee pay.
In China, the slow collapse of property giant Evergrande reached a new level this week. Just one month after trading was resumed, shares have been halted once more as the company comes under increasing pressure. Reports suggest the company's executives are under surveillance and house arrest as it comes closer to breaking point. Evergrande is considered 'too big to fail' by some, and it is unclear just how large and how widespread the impact could be around the world if it were to collapse.
Years of cheap money has seen debt soar, and months of interest rate hikes has led to cracks now appearing in the global economy. For central banks to pull off the hoped-for 'soft landings' looks increasingly unlikely. While gold has fallen this week, it remains high historically speaking, and has built a new price level that leaves it well poised to push to new all-time highs when sentiment turns.